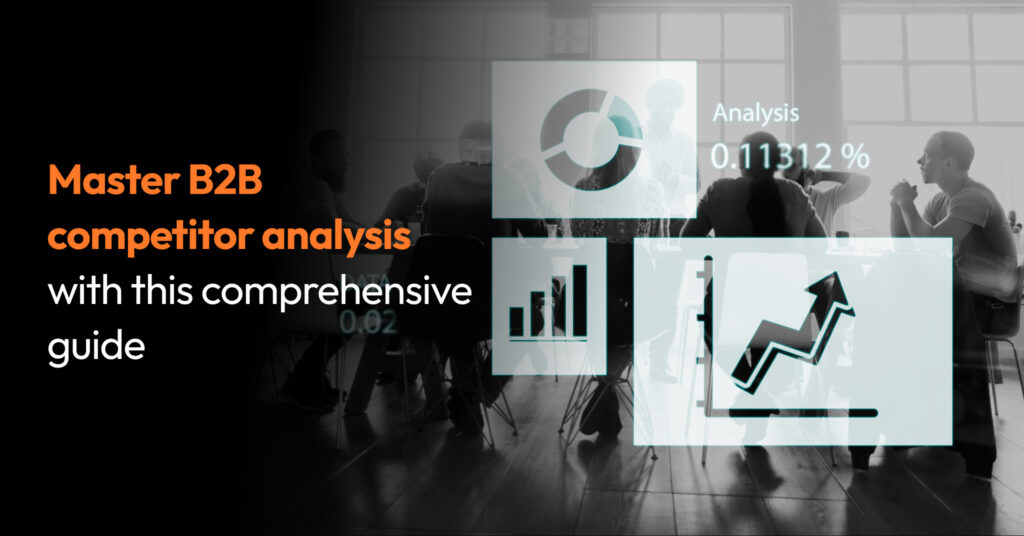 Imagine stepping into a boxing ring without knowing your opponent's strengths and weaknesses. That's essentially what you're doing if you're not performing competitor analysis. To excel in the present-day B2B landscape, businesses of all sizes, from startups to Fortune 500 companies, rely on competitive research. Without it, you're losing out on new opportunities & potential customers.
To help you make competitor analysis an effective part of your business growth strategy, we are covering the following critical aspects in detail here:
What is competitive analysis/research?
Competitive analysis or research is the process of identifying, assessing, and comparing your direct & indirect competitors, their business strategies, and how they are achieving success in your niche. The process helps you to better understand your position in the market and develop strategies to stand out.

Benefits of B2B competitor analysis
Competitive analysis is essential for all businesses, regardless of size or stage of growth. For new businesses, it is a critical step in developing a business plan and launching a successful product or service. For established businesses, it can be a valuable tool for evaluating their performance and identifying areas for improvement.
A thorough competitor analysis can help businesses identify:
Market trends
New & missing opportunities
Key competitors & their strengths and weaknesses
Competitors' unique value propositions
Their target audience's needs & pain points
This information allows businesses to:
Identify and avoid the mistakes their competitors are making
Set realistic goals as per market conditions
Improve their offerings, marketing & sales strategies, and more
Fulfill the needs of their target audience that competitors are unable to meet
How can businesses conduct competitor analysis in the most effective manner?
To effectively conduct competitor research and collect vital data for analysis, you need a strategic approach. Here is a well-defined process to help you get started.
1. Identify a few of your primary competitors
For existing products, you may have a good understanding of your competitors. But when launching new products in the same market, you need to conduct thorough research.
Identify your potential competitors based on:
Types of products/services they offer
Business model
Target audience
Industry experience
Number of employees
Company location
Market share/total funding
You can use credible sites like Crunchbase, G2, and LinkedIn to find the key competitors based on these criteria. Once you have a list of top 10 competitors catering to the same audience, you need to categorize them into your direct & indirect competitors.
Don't have time to search for competitor data?
Let our experts build a custom list for you.
2. Analyze your competitors' strong & weak points
To understand where each competitor stands and how you can do better than them, it is critical to understand their strengths, weaknesses, opportunities, and threats through a SWOT analysis.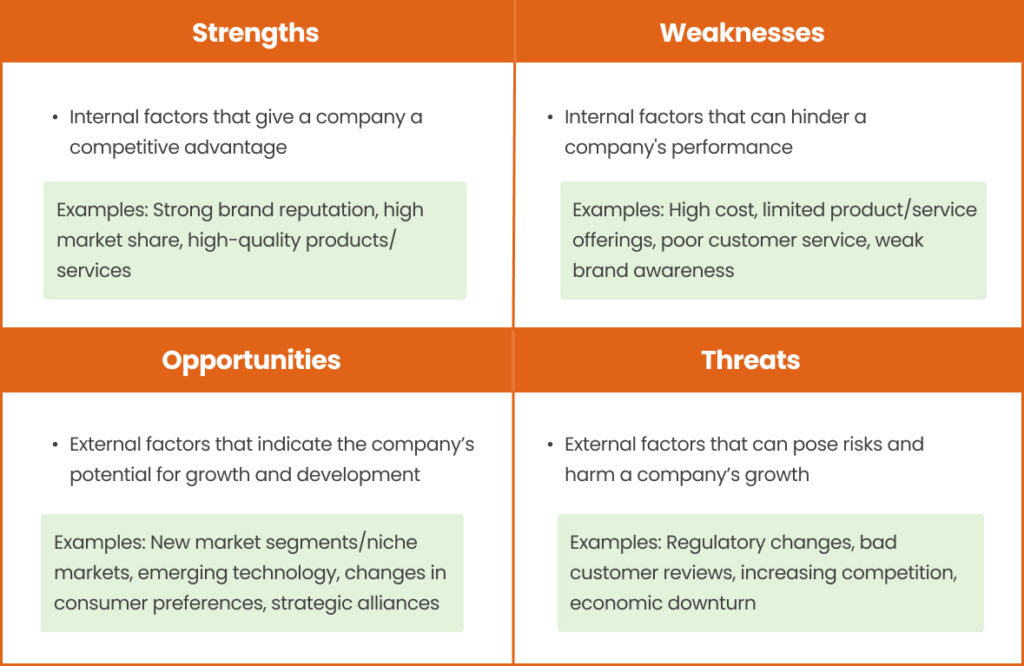 The information you get from SWOT analysis will help you understand the gaps between what your competitors are offering and what your target audience needs. With a strategic approach, you can convert these gaps into opportunities for your business to stand out.
3. Understand competitors' go-to-market (GTM) strategy
You can understand how strong your competitor is by analyzing their market share, strengths, and weaknesses. However, to understand what they did and how they did it to attain that position, you need to take a look at their go-to-market strategy. A well-crafted GTM strategy answers four crucial questions:
1. Who
is the target audience of your competitors?
is consuming their content?
2. What
your competitors are selling/offering to your target audience?
are their unique value propositions?
3. How
are your competitors reaching their target customers?
4. Where
are your competitors promoting their products/services?
To gather this information, you can check their social media handles, websites, industry reports, and other credible sources. Once you have answers to these questions, you can formulate an effective GTM strategy for your business to reach the target audience in the right manner.
4. Conduct a similar analysis for your company & compare the results
After completing a competitor analysis, it is important to conduct a self-assessment of your company for comparison. This will help you identify your strengths, weaknesses, and unique selling points (USPs). Once you understand your position in the market, you can develop strategies to gain an advantage over your competitors. If you are struggling to identify your USPs, consider your competitors' weaknesses and how you can provide what they are lacking.
Example of how to compare your company's performance with competitors
5. Perform competitive analysis on a regular basis
Competitor analysis is an ongoing process, not a one-time activity. The B2B landscape is dynamic, with new trends and technologies emerging all the time. To stay ahead of the curve, it is crucial to keep upgrading your analysis approach as and when required.
A good rule of thumb is to perform a B2B competitor analysis once a quarter or year, depending on your industry. Each time you update your competitor analysis, you should also re-evaluate your organization's analysis approach to ensure that you have a clear picture of your competitive landscape. This will help you to embraceemerging trends and technologies and improvise your strategies as needed.
6. Use machine learning & AI for automating competitive analysis
AI and machine learning tools can make competitor analysis seamless and faster by reducing manual efforts. Businesses can utilize these tools to perform several tasks related to competitive analysis, including:
Scraping data from various online sources for analysis
Processing unstructured data (text, images) to extract relevant details about competitors
Performing sentiment analysis on customer reviews & predictive analysis for future market trends
Segmenting customers into different groups based on their demographics, interests, and behavior for personalized marketing campaigns
Tracking changes in pricing and other website data of competitors in real time
How can you leverage competitive analysis data for your business?
Competitive analysis is essential for improving all aspects of your business, including marketing, sales, customer service, and beyond. This is how different departments within an organization can use competitive analysis data to improve their operations and offerings:
Sales team
Marketing team
Development team
They can collect various types of details from competitors, such as:

Product pricing
Features
Customer reviews
Monthly sales data
Sales channels

Marketers can collect a wide range of data from competitors, such as:

Ranking keywords & hashtags
Trending content topics & formats
Backlinks
Marketing channels

Website development teams can collect various types of data such as:

Features & functionalities
UI design & responsive elements
Third-party integrations
Development platforms & frameworks

This data can be utilized to tailor their sales strategy, highlight unique selling features of products, optimize product pricing, and prepare better pitch decks to target relevant audiences.
This data can help them tailor their marketing strategy, target relevant keywords & hashtags in their content, understand user intent & create the right type of promotional content to target the consumers.
Utilizing this information, the website or app's UI design can be improved and features that competitors are missing can be added to create a more user-friendly, efficient, and visually appealing product.
How B2B competitor analysis helped our clients gain a competitive edge: Real-world examples
As a leading competitive analysis service provider, we have helped many businesses (of various niches) overcome their challenges and grow better by performing in-depth research on competitors. Here are some worth-sharing stories from them:
Client A: A fashion and apparel startup was struggling with declining sales, despite having a large collection. They needed to revamp their product offerings to appeal to current trends and customer demand.

How we helped: We conducted market research to analyze the client's key competitors and their top-performing products, pricing strategies, and marketing tactics. We also analyzed the latest fashion trends and consumer preferences.

Outcome: The data we provided helped the client develop a new product range that was more in line with current trends and customer demand and optimize their pricing strategy. This increased their online sales by 30%.
Client B: An established automotive parts supplier was struggling to maintain profitability due to rising competition & pricing pressure.

How we helped: We analyzed our client's pricing structure, customer preferences, and competitor pricing data to develop a new pricing strategy that would allow them to increase their profit margins while remaining competitive.

Outcome: The new pricing strategy we suggested to our client leads to an 18.5% increase in profit margins while retaining customer loyalty.
Build your winning B2B strategy with competitor analysis
To thrive in the modern B2B landscape, all businesses need to conduct competitor analysis in the right manner utilizing the best practices mentioned in this guide. To make competitive research more useful for your business, you must:
Choose the right competitors to analyze
Know which are the most critical and relevant aspects of their business to analyze
Understand where to collect the required data from
Invest in advanced competitor analysis tools to streamline the process and save time & effort:
Ahrefs
Semrush
SpyFu
Sprout Social
SimilarWeb
BuzzSumo
Don't have the time or resources to conduct competitive research in-house?
Let us handle it for you with our competitor analysis services.