Data forms the backbone of calculated business decisions. Although it helps in shaping diverse business decisions, its importance in formulating marketing strategies stands undefeated.
Maintaining voluminous data is not an easy task. However, a bigger concern is to use the available data to its maximum potential. This calls for looking out more ways in which data can be used for the overall business improvement.
Sales forecasting and marketing: The ideal way
Companies often use data mining to identify their target audience and expand the customer base. You can outsource data entry services to segment your target audience on the basis of factors like-
gender
age group
occupation
buying behaviour
geographical location
Segmenting customers further helps in forecasting sales for an already existing product and also in deciding the development of a new product. On the basis of the sales forecast, companies get a broad idea of their stock requirements.
However, despite taking demographics and psychographics into account, sales forecast may not always be close to actual sales.
Product creation: The other way round
Instead of using data merely to expand the target audience for selling an existing product, database mining can contribute significantly in creating new products. For instance, you can conduct data analysis to figure out user expectations for a particular line of products, say travelling bag.
Brands like Apple and Amazon that are known for their innovative drive do not start right away with product creation. They identify a pain point with the help of database mining and come up with a product to solve the problem in a way that customers can never expect.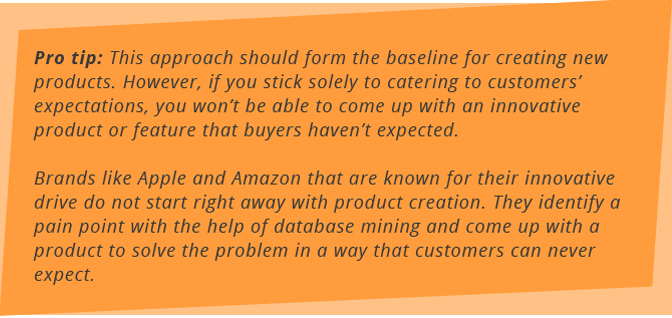 While creating a product, keep in mind that
Its features resonate with an obvious customer need.
It has additional innovative features that surprise the customer.
Get to Know
Data mining if done the right way can take you places. If you want to unlock the hidden profitability of your business, you can write to us at info@suntecdata.com