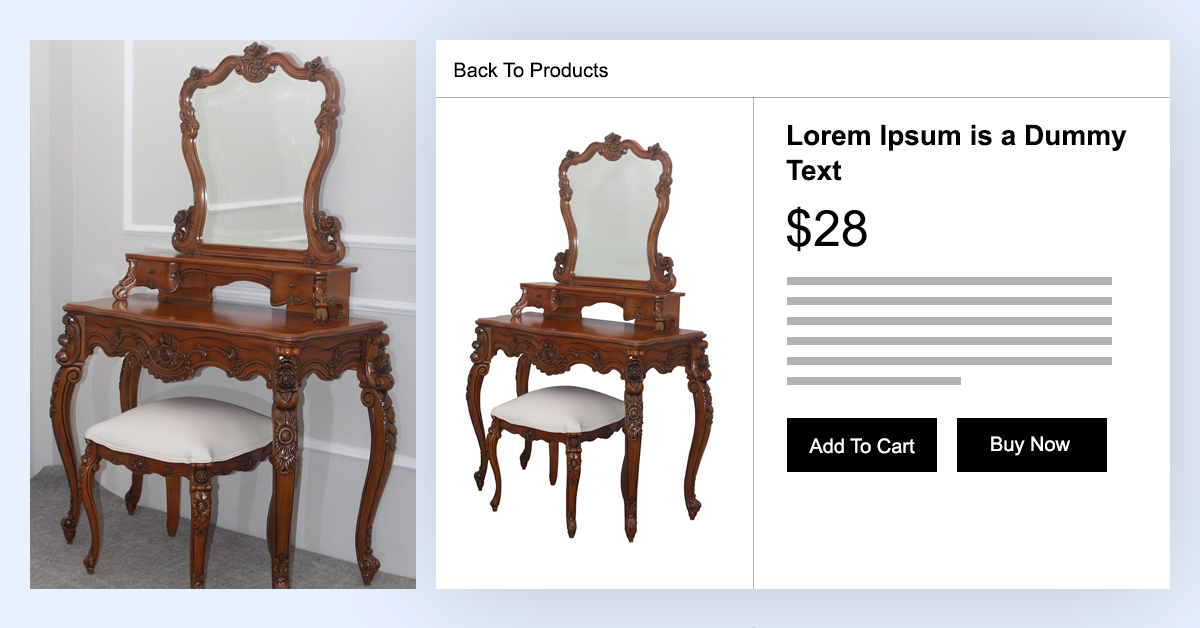 The image background is vital to make a perfect first impression in front of your potential target audience. By eliminating all the undesired and distracting elements from your product image will facilitate driving more focus on the main product. Being the most inevitable part of a product image, the background must be clutter-free and flattering to garner the attention of your prospective customers without much effort. On one hand, white backgrounds make images look more professional, on the other, transparent or vibrant backgrounds set the mood as per the intent of the brands. The idea is to lure the target audience towards the products through captivating, flawless images. This might need some image editing or retouching to remove all kinds of distortions and flaws and get a perfectly polished and refreshing image as an outcome.
In order to remove background from an image or a set of images, or make it transparent, you might need the help of a professional image editing expert that helps your brand in editing a collection of photos proficiently and delivering nothing but the best for a great, impressive impact on your potential audience.
Use a background remover OR Hire a photo editing specialist?
You obviously don't want your prospective audience to go to your competing counterparts to buy a product that's similar to yours, isn't it? So what are you going to do about it? Go for a suitable background remover tool to fulfill your requirement or simply hire a photo editing expert to cater to your background removal needs.
There are a number of background removal tools and software out there to refine your product images with no background, transparent background, or a vibrant one to create an impact. Though a background remover must be able to address all your background removal concerns and deliver just what you expect, it is not always the case. Sometimes, the outcome isn't even close to what you expected and not everyone is well-versed with the technicalities. On the contrary, when you consider hiring an offshore image editing professional, you are laying down your requirements quite clearly and the experts you hire are adept at handling all kinds of background removal techniques. So, in order to get the work done and meet your expectations, hiring an image editing expert is a viable thing to do.
How can professional background removal services help grow your business?
Removing the background from product images is extremely essential for creating impactful impressions in the minds of the potential audience. Whether you are a freelance photographer, a fashion house, or an eCommerce business owner, you can add significant value to your product photos by giving them a professional touch and playing with the background.
Mere capturing photos isn't enough, one must be able to process the images to attract more visitors to your product pages. Editing the photos using various background removal techniques helps accentuate the true beauty in them and bring out the best in the product photos. Opting for professional image background removal services will help you in a number of ways. Here are some promising benefits of outsourcing all sorts of background removal tasks to an offshore service provider:
1. Professional, relevant, and authentic outcome
If you intend to make your product images look all the more authentic and professional, then a photo editing specialist is all you need. You can give a refined look to your images and make them appear appealing to your potential audience with well-suited background techniques. Background removal involves eliminating all sorts of distortions, blemishes, flaws, marks, dirt, dust, or any undesired element like people or a tree from the image to give a rather cleaner, clutter-free look. Also, whether you wish to remove the background completely, make it transparent, or add a vivid hue to it, everything is possible with a professional background removal service. If you have a theme or color in mind for every product photo of yours, that can also be done quite easily. In addition, you can manipulate the images as per your needs and requirements and use them for a variety of purposes. The photos can be used as a banner, a thumbnail, and even for an ad cover. Tools such as Photoshop are used to accentuate the look and make it pleasing for the eyes. Apart from being stunning and attractive, the photos will also be professionally sound, authentic, and relevant.
2. Effective and impactful presentation
How you present your products in front of your potential buyers is what makes your buyers' journey all the more enticing and memorable. Background removal plays a crucial role in persuading the visitors into buying the product offerings. If you make use of a mismatched, unprofessional, or unsuitable background for your product images or for banners and ad covers, you are bound to lose your potential customers to your competing counterparts. Even if you intend to use the captured images for any commercial purpose, then it must be done appropriately for every platform to keep them relevant. At times, you might want to use different backgrounds to maximize the reach and achieve more sales. This is just what an offshore company offers. Opting for professional product cleaning services will not only help you produce fascinating home pages, landing pages, as well as category pages for your target audience, but it will also allow the potential buyers to choose your products every single time without any second thoughts!
3. Higher sales
The ultimate goal of background removal is to close more deals. With a proper background removal process, customers will be able to make a buying decision easily. Removing a background makes it easy for brands to manipulate the photos as per choice and make them as captivating as possible for the potential audience. This further attracts the attention of relevant buyers to the ads, banners, or products, unlocks the sales potential, and boosts the conversion rates as well. So, the more the appeal and engagement, the higher will be the sales and conversions.
4. Well-informed buying decisions
Background, without a doubt, makes a whole lot of difference to an image that is meant to close a deal. So, whether it is the quality of products offered, the color scheme chosen, or the text used as an overlay, everything needs to be close to perfect to achieve higher sales. After all, a product image is one of the first things a potential buyer notices before making a buying decision, especially in the eCommerce industry. You must portray an image that showcases all the details clearly and without any distortions or imperfections. Going for effective and professional image editing services will allow your prospective audience to make the right buying decision and build a sense of trust in the brand. With adequate background removal, you get to improve the quality and appearance of product photos and increase the credibility of the brand thereof. When the images will look authentic, the potential buyers are bound to make a well-informed buying decision. They will further be willing to trust your brand for making repeat purchases in the future.
5. Consistency
Before shortlisting or buying a product, a customer always compares the products he/she is interested in. Such comparisons help the customer in zeroing in on a particular product. So, in order to make your potential customers arrive at a buying decision, that too in your favor, you must maintain consistency in your product images. When you offer your prospective customers a seamless comparison process and a hassle-free buying experience by bringing consistency in your photos, then you are bound to increase your growth potential through sales. In fact, a great impression would compel them to visit your online store again!
A spectrum of services offered under background removal
The various services included under background removal include the following:
Image masking
Clipping path
Color correction
Watermark removal or addition
Conclusion
SunTec Data offers professional image background removal services to efficiently remove, replace, or add a background to product images and create a stunning impact in the minds of the target audience. Our image editing specialists go all out to make your product images fit for different eCommerce platforms including Amazon, Etsy, and more. Connect with us at info@suntecdata.com to know more about our value-driven services.