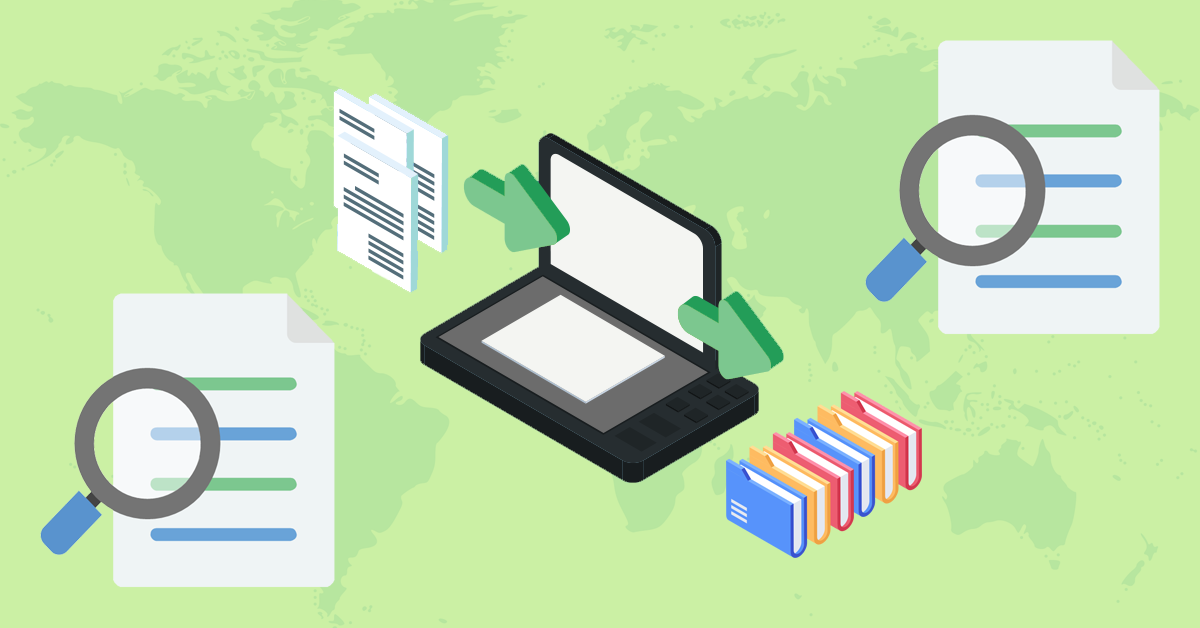 What are Document Scanning and Indexing Services?
A lot of the business data is available in the form of handwritten notes, printed documents, medical files and transcripts, printed photographs, and paperback books. This data is crucial to an organization. However, since it is not available in an organized manner, it needs to be scanned and arranged to suit the data requirements.
Document scanning services involve obtaining such print data and storing it for further use and transfer. Sophisticated scanners are used to scan all kinds of documents, and the resulting output is a clear, high-quality document. However, document scanning does not only depend on the machine and requires human monitoring to ensure state of the art quality.
Huge amounts of bulk data can be scanned and stored in various formats such as JPEG, PNG, TIFF, and PDF files using photo scanning services. Contemporary scanning involves not only scanning print documents as images but interpreting the data included in these documents as well.
Document indexing services basically involve arranging documents in such a manner that they can be searched easily. This can only be done when the indexing software is able to recognize the content, category, and tags of a document and hence requires search optimization. An expert document scanning and indexing company takes care of end to end processes, and is a great outsourcing option for all kinds of businesses.
Benefits of document scanning and indexing
Document scanning and indexing has several benefits. With the help of scanning and indexing, organizations can rapidly send and receive documents, collaborate for data transfer purposes, manage bulk documents, and ensure data privacy besides other uses and applications.
1. Instantly send and receive documents
Photo scanning services allow instant sharing of documents across personnel, organizations, and governments. Today, documents can be scanned and sent to any part of the world at any time with the help of the internet. Whether it is a passport sized photograph or a hundred page confidential document, document scanning services allow easy transfer of data across borders within a matter of seconds.
You can even scan and index print catalogs now, thanks to catalog scanning and indexing services. Important components of print catalogs can be scanned and indexed, including contents, barcodes, QR codes, maps, application links, URLs, and other clickable links. Scanned images and catalogs can then be easily transferred regardless of the file format.
2. Simplify collaboration
Once you have scanned your documents, they can be simultaneously viewed and edited by the people you choose to share the documents with. This helps work on a project collaboratively, increases ease of operation, and reduces the time required to complete projects. Hand written document scanning services help scan and index handwritten documents and simple text and transcripts written on paper with the help of a pen or pencil.
In today's competitive world, it is important to collaborate on projects with people around the globe. Digital films and negatives can also be scanned and indexed using film scanning and indexing services. 8mm to 70mm films can be shared and simultaneously edited to create 8K high quality digital films with stereo sound while ensuring file protection.
3. Simplifying Document Management with Indexing
Document indexing services indeed simplify document management. Indexing is really important for search, and really helps while searching files and documents amid huge amounts of data. Professional document indexing involves using metadata to help group similar types of data.
Indexing also helps find photos with the help of metadata. Indexing, when grouped with photo scanning services, helps retrieve images of personnel, physical items, celebrities, historical artifacts, design plans, and much more. Indexing is helpful, especially while managing big data and during audits.
4. Reduce document retrieval times
If you outsource document scanning and indexing services, you are bound to save time lost in the retrieval of documents. This involves introducing a file naming and categorization system. If file name, metadata, contents, important keywords, FAQs, images, category, and other such data is properly entered, file search becomes easy. This also helps automate file search, ensuring savings in terms of time and money for your company.
Optical character recognition or OCR helps software recognize the text of printed documents to convert them into digital data. OCR software enables users and organizations to search files just using the words included in the contents. All documents, pages, and sections matching the search results can be indexed within seconds using OCR.
5. Ensure document safety and confidentiality
Safety is of utmost importance while availing document scanning and indexing services. It is important that data does not get lost or damaged during the transfer. Many people and organizations make the mistake of scanning physical documents and storing them without taking backups.
Data can also be lost due to unavoidable circumstances such as accidents, emergencies, or natural disasters such as earthquakes, fires, floods, etc. If you just dispose of the physical copies and do not create digital backups, there are huge chances of losing data entirely – resulting in losses worth millions of dollars.
Data confidentiality is another important factor of document scanning and indexing services. Your data might be worth millions of dollars, but if stolen or leaked, you can be reduced to huge amounts of debt. Not only that, leaking of critical information – like personal information of customers and clients – can result in criminal charges and must be avoided at all costs.
All organizational data must be stored properly to minimize the risks of data loss. A good document scanning and indexing company will create backups of your data, index data properly, store your files on multiple servers, encrypt the data to avoid theft, and transfer your documents to the cloud for easy access regardless of your location.
6. Use time and money by managing digital data
Now that you know that physical data deteriorates and gets damaged, it is time to convert your photos and other printed documents to digital data. Digital data cannot be destroyed unless a file is deleted or corrupted, or unless the storage facility – server or hard disk – is damaged or corrupted.
Medical record scanning and indexing services encourage hospitals and healthcare data management organizations to scan and obtain data of all patients, medicines, suppliers transactions, bills, prescriptions, medical reports, scans, and tons of other data.
Large format or wide format scanning and indexing services involve scanning documents of large sizes including sizes as large as ANSI E (34" by 44") and above. Such large format documents are bound to get damaged with time, and scanning and indexing them helps reduce physical bulk and secure the data for years.
Outsource Document Scanning and Indexing Services
If your organization deals with huge amounts of physical images and documents, but don't have the time to scan and index them, you should outsource document scanning and indexing services. Whether you belong to the healthcare, financial, eCommerce, retail, real-estate, marketing, educational, non-profit, or legal domain, all your documents can be scanned and indexed without any amount of trouble.
SunTecData is a document scanning and indexing company that has helped hundreds of clients around the world scan and store huge amounts of bulk data. The company has been providing scanning and indexing services for over 15 years and has clients in most parts of the world. You can get a free quote by emailing all your requirements to info@suntecdata.com.