In this digital era, processing and digitizing data have become a necessity for businesses to have enhanced operational efficiencies. Be it through manual data entry or document process automation, digitizing data allows prompt and easy access to significant information.
Though businesses duly acknowledge the importance of data, the inadequate manpower to organize data remains a crucial challenge for them. When it comes to obtaining and entering data from huge volumes of documents, the requirement for resources increases drastically. Hiring new professionals for data entry tasks would result in additional costs and infrastructure whereas utilizing the existing manpower would hinder the progress of their core business activities. Therefore, most organizations prefer to outsource data entry services.
Outsourcing not only proves to be cost-efficient but also allows businesses to access a pool of experts and the latest technology that assist them with managing their growing volume of data. Having said that, let us look at the key benefits of outsourcing data entry projects: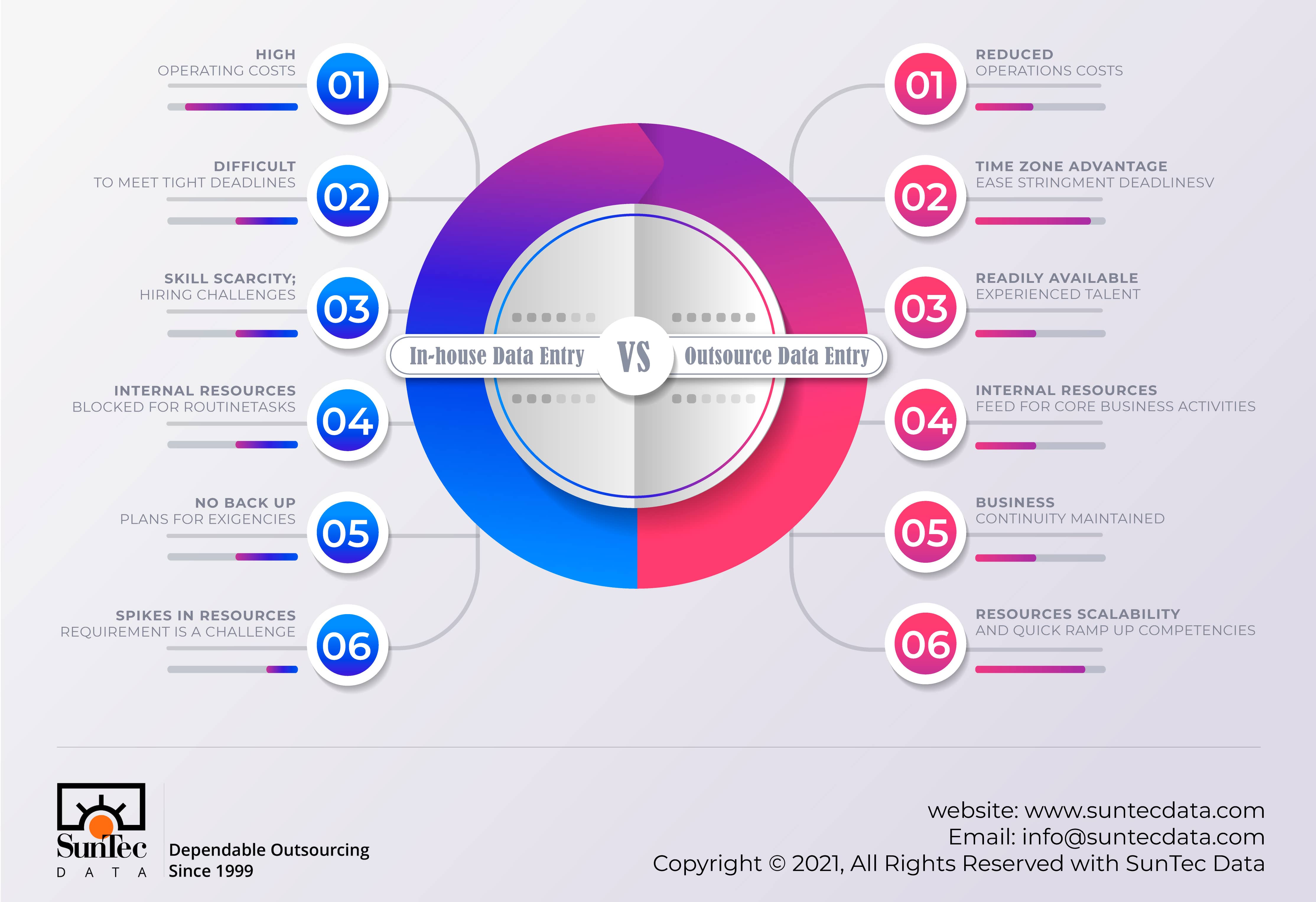 The Key Benefits That Data Entry Services Provide To Your Business
Boosts Productivity – Most organizations have dedicated resources for their core business activities. If they divert the designated resources to data entry projects, the core business operations would be hampered. Outsourcing will help in reducing the workload while increasing overall productivity, allowing your resources to focus on their assigned activities and the respective business strategies.
Proficient Data Management – Data entry experts with extensive experience and in-depth understanding will ensure an error-free output. They will use their expertise to skillfully extract data from handwritten, printed, scanned or typewritten documents. They can key-in details irrespective of the formats enabling them to deliver accurate, consistent and up-to-date data.
Targeted Marketing Campaigns – Professionally classified data allows you to promptly fetch valuable insights. You don't have to put unnecessary effort on exploring and analyzing the scattered data. This saves time which can be utilized on marketing campaigns helping you focus better on prospects and customers on the basis of clear demographics, thereby getting better results.
Some of the most common data entry projects outsourcing requirements of organizations are:
Online Data Entry
Data Entry from Printed/Handwritten Documents
Offline Data Entry
Image Data Entry
Catalog Data Entry
Company Reports Data Entry
Book Data Entry
Copy Paste
Invoice Data Entry
PDF To Excel Data Entry
Legal Documents Data Entry
Data Entry from Yellow Pages
Text & Numeric Data Entry
Data Entry for Mailing Lists
With easy access to relevant and accurate data, you can attain the true potential of your business operations. Knowing how beneficial data entry services are for your data requirements, wait no more in selecting a reliable data entry service provider to have effortless business operations and upscaled work rate.
If you are also looking forward to outsourcing Data Entry Services, then drop a mail at info@suntecdata.com to have a free consultation from data entry experts.