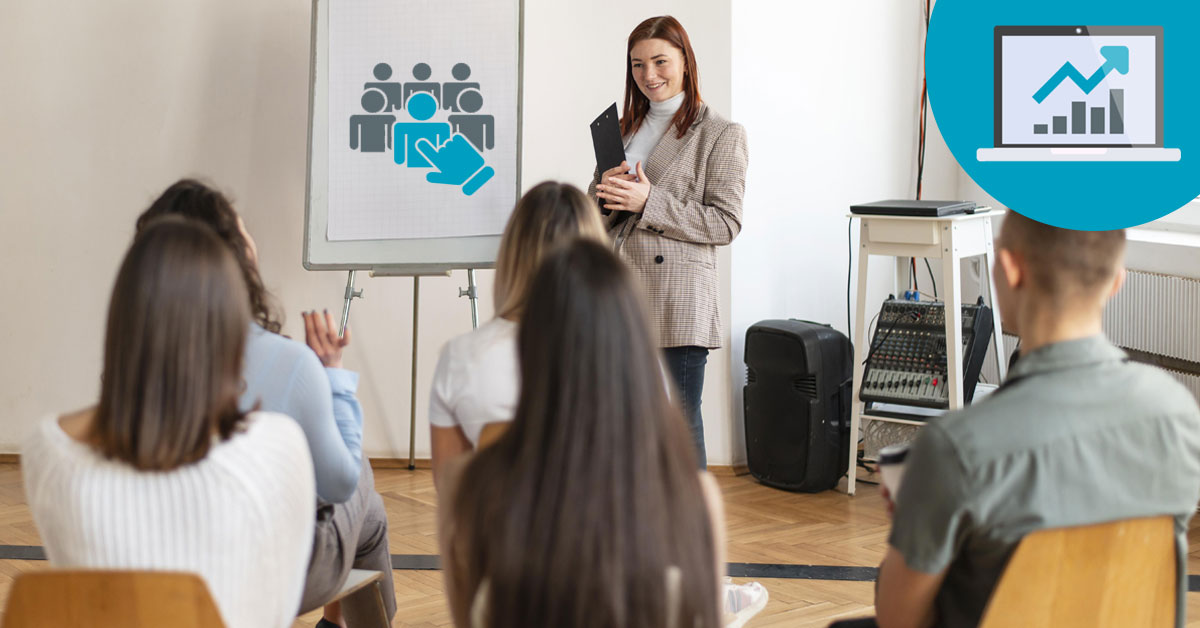 What exactly is lead qualification?
Profits are the main driving force for businesses. In B2B, the client is the most important factor. You spend a lot of money trying to acquire quality clients. But what if you had the leads with more chances of conversion than nought? Ever heard of lead qualification? No? Well, then you are at the right place.
Lead qualification helps businesses identify those potential clients that are most likely to convert. Rather than spending time, money, and other resources targeting the wrong people to no use – lead qualification saves the time of both you and your next client(s). As the name suggests, lead qualification helps you identify the leads that are qualified to become your clients.
Several lead generation experts or companies might be willing to provide you leads which you can target for pitching your business. But what is the use of such leads if most of them don't convert? Lead qualification services involve hiring experts that provide you with leads – most of which are likely to convert. These include businesses that want services right now as well as businesses that require just the products and services you offer – the ones you are great at.
Lead qualification experts help qualify B2B leads that are most likely to convert right now. They connect you to people who are interested in your business and are just not able to find the right company to make things work. The process involves providing a list of people who have not only provided enough personal information, but also shown keen interest in your business or others who offer similar products and services as you do.
Businesses can always outsource B2B lead qualification services to experts that identify leads that will eventually boost your sales. You can then target these clients the way you want, or as suggested by the service provider. Through the course of this blog, let us understand the various benefits of lead qualification, the various services involved and how you can get in touch with experts for outsourcing your requirements.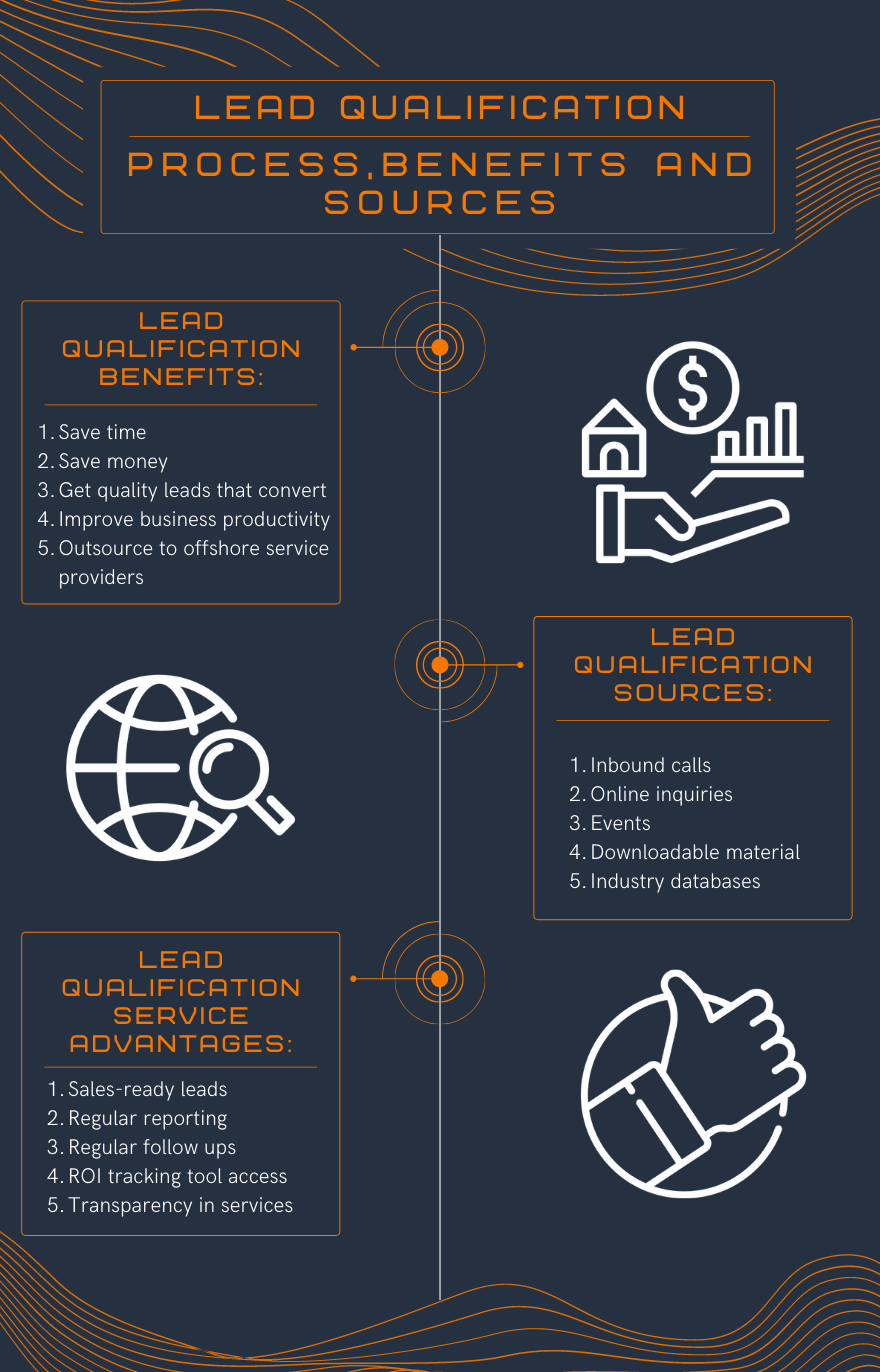 Benefits of lead qualification
Lead qualification has several advantages. It offers businesses with a three dimensional edge – saving their time, saving their money, and boosting their business with a growth in sales. This helps you get more leads and generate more profits within a short span of time. Let us have a look at some of the other great benefits of lead qualification in detail.
1. Improve business productivity
The process helps you Qualify B2B leads, helping you focus on your business area without worrying about marketing and lead generation. Within no time, you will have so many clients that you might have to consider outsourcing work or increasing your team size. So it's better to focus more on your strengths now and leave the rest to experts.
2. Don't waste your time on leads that don't convert
Targeting leads that don't convert can lead to unpleasant interactions, lack of credibility within the market, monetary loss, and a certain waste of time. With B2B Lead Nurturing Services, you only get to interact with leads that are interested in your business and have great chances of conversion.
3. You don't need to hire full time experts for lead qualification
That is exactly how it is. You can outsource lead qualification services to experts, and save on infrastructure, regulated salaries, office space, and other benefits you have to offer to your full time employees. With expert assistance, you always get leads that are fresh and not ones that are outdated or redundant – which means they need your services now and are most likely to engage with you very soon.
The best lead qualification service providers make the best use of experienced manpower and the latest technologies. A fine balance between the two makes for great lead generation, and that is exactly what you want. It is important for you to know the lead qualification processes in detail, so let us have a look at the same.
How does a lead qualification company identify leads?
Lead Qualification Services comprise of many processes that help qualify business leads. The most important aspect of lead qualification is knowing your business goals, the nature of your business, and the kinds of leads you are looking at. Your budget also matters a lot, so it is important you provide all this information to your service provider. A good lead qualification company scans information from different sources to get you the best leads.
1. Getting leads from inbound calls
Inbound calls are a traditional method of getting leads. While calls are also one of the oldest methods business owners use while engaging with service providers, getting quality inbound leads is tough in today's day and age of data overload.
2. Getting leads from website inquiries and quotation requests
B2B lead qualification services are of great help when it comes to getting leads from online enquiries and quotation requests. Experts get information about leads not only from your website and general forums, but from your competitors as well.
3. Getting leads from online events
Online events are a great source to get hold of leads that would convert. Many online events are targeted towards businesses and entrepreneurs, and their response level helps service providers identify the best leads for your business from hundreds of attendees.
4. Getting leads from downloadable material
A lot of online material is available for helping business owners, and their personal information is requested before downloading. Lead qualification experts identify those leads who are most likely to convert, based on their detailed interactions, reviews of these materials, and other information gathered during engagement materials.
5. Getting leads from industry databases
Industry databases are huge and extensive. However, the percentage of leads that would qualify are very little compared to the total number of leads. Lead qualification experts help you identify great leads from these sources, and also help you get leads from PR sources.
Outsource lead qualification services
You must outsource lead qualification services to experienced professionals with a proven record of lead qualification for multiple clients. Experts also help you sort out leads from a large database that you might have acquired over a period of time. Outsourcing B2B lead qualification helps businesses save time and money, and provides them the opportunity to grow and expand their business while focusing on their strengths.
A good lead qualification company would provide you with the following benefits:
100% transparency and regular reporting.
Getting sales-ready leads that are hot and waiting to convert.
Getting access to ROI tracking tools and software.
Getting detailed information about your lead's requirements, so that they convert after the first interaction.
Getting follow-up on every lead so that you or the lead qualification company doesn't miss out on any key information to drive your sales better.
SunTecData provides high-quality, affordable B2B lead nurturing services to help businesses thrive amid high competition. With over 20 years of experience, SunTec Data has provided lead qualification and nurturing services to hundreds of clients in over 30 countries. You can get a free quote by emailing all your requirements to info@suntecdata.com.
FAQs
1. What are lead qualification services and what are their benefits?
Lead qualification services are meant to help businesses get high quality leads that are most likely to convert, based on your goals as well as the business's requirements. Lead qualification services help businesses save time, money, and valuable resources. They also help improve business productivity and avoid the need to hire full time experts.
2. What sources do lead qualification companies use to get good leads?
Although lead qualification companies refer to many sources while searching for leads, some of the most common sources are online quotations, industry databases, events, downloadable resources, PR sources, inbound calls, and online inquiries.
3. What aspects should I look at while outsourcing lead qualification services?
You should always outsource lead qualification services to experts that provide high quality services. Go for companies that provide experienced professionals, customized packages for clients, high level of transparency, good customer support, ROI tracking tools and regular follow ups.