Outsource Amazon Product Listing Optimization Services
Rank higher, drive more visibility for your listings, boost engagement, and secure better traffic, leads, and conversions with Amazon listing optimization services from SunTec Data.
The chances of success on Amazon- the world's largest and most customer-focused online marketplace -are high. So is the competition! Our Amazon product page optimization services can help your business gain a competitive edge in this market. We ensure that your listings appear on top of the search results while reducing bounce rates and increasing CTR through avant-garde product listing optimization strategies.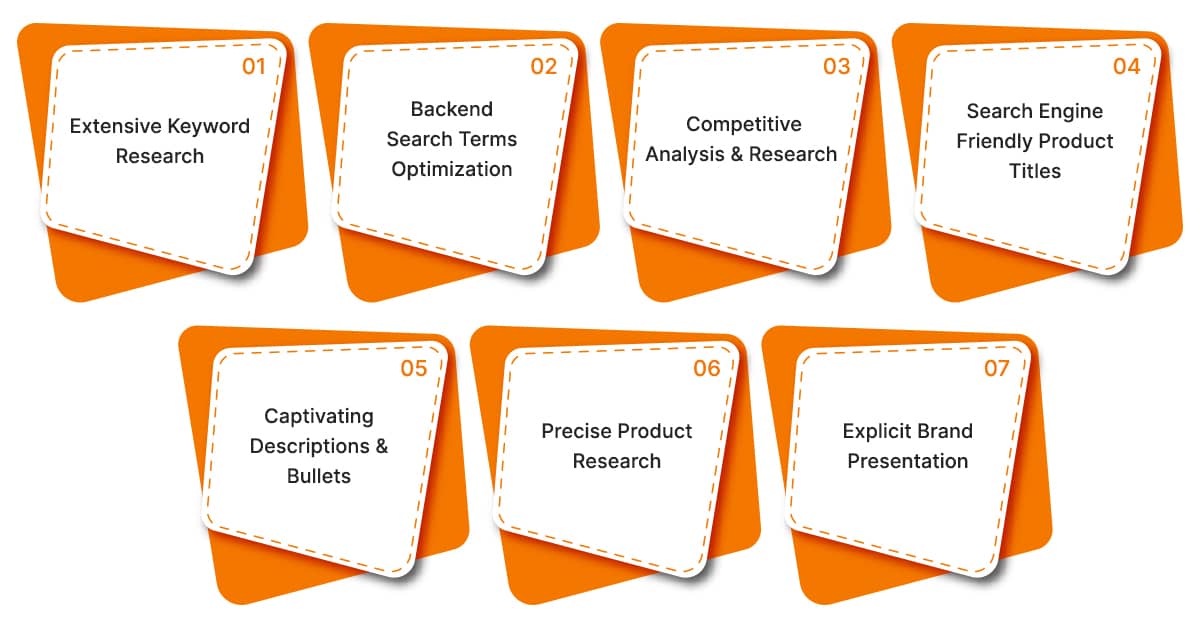 Full-Cycle Amazon Optimization Services At SunTec Data
Get your Amazon listings in front of 310 million active users.
SunTec Data is your ideal partner to outsource Amazon listing optimization services. Being in the industry for more than two decades and assisting a diverse global clientele with versatile solutions has rendered us capable of delivering cost-efficient and customized Amazon optimization services
From assessing your Amazon product listings and identifying issues in it to finding and adding high-volume keywords, crafting captivating content, and editing product images, our listing optimization experts can do it all with precision and ensure a quick turnaround. Our Amazon product page optimization services include end-to-end listing creation, monitoring, and updation. Experts in our team cater to every single client requirement while delivering high-quality, optimized product listings that target intended customers and the Amazon algorithm at once!
Keyword Research

To ensure effective results from Amazon product listing optimization services, we extract search terms using the industry's best Amazon keyword research tools. Next, we arrange the findings by context, query relevance, and product category and compile a list of highly-valued search terms that can ensure better rankings for your Amazon product listing.

Amazon Product Title

A product title is an integral part of your Amazon product listing. It is a factor Amazon considers when matching a user's query with product listings. Thus, we create clear, precise, and relevant product titles that can appear in the search results and convince buyers to click on the listing.

Bullet Points

We understand that optimized bullets are vital to selling better on Amazon. Thus, our optimization experts ensure that each product in your listing has separate bullet segments that include the most valuable features/specifications and all the relevant keywords for better performance and profitability.

Compelling Product Copies

As a part of our Amazon listing optimization services, we write creative product descriptions that inspire the customers and steer them toward the buying decision. Additionally, we use the best SEO practices when creating listing content so that our product copies are not just fancy but strategic, purposeful, and capable of driving conversions.

Backend Keywords

Our Amazon product optimization experts naturally integrate keywords into your listings to ensure higher search rankings and positive results. Simultaneously, we increase your listing's chances of ranking or matching specific user queries by adding other relevant long-term search terms and organic phrases (ones that do not perfectly fit in or match the listing copy) in a particular backend section.

Amazon A+ Content

With Amazon A+ content, the chances of getting traffic, leads, conversions, and sales get multiplied. Our product listing optimization experts assist you here by meticulously crafting content for Amazon product pages, including high-definition images and videos, graphs, tables, comparison charts, banners, composite layouts, etc.

Market Research & Competitive Analysis

In-depth market research and competitive analysis are fundamental to our Amazon optimization services. It includes recognizing top-selling brands in a similar niche, noting search term patterns in user queries & product listings, and examining competitors' product pages. Armed with this information, we create informative and highly optimized product pages that ensure better ranking, performance, and profitability.

High-Quality Image Editing

Our Amazon product listing optimization services include high-quality product image editing, retouching, and enhancement. We employ expert image editors to improve your product photos and redirect the focus on your product by eliminating all distractions in the background. In addition to background replacement, we also refine product images by adding shadows, color, and light adjustment, and also offer the ghost mannequin effect.

Continuous Amazon Product Optimization

Amazon product listing optimization is a continuous process at SunTec Data. We keep a tab on your listing performance and execute continuous optimization for a while to ensure maximum results. This also allows us to keep up with the ever-changing Amazon algorithm and make necessary changes when required, thus ensuring consistent performance for your Amazon store.
Outsource Amazon Optimization Services To SunTec Data And Rank On Top Of Amazon Search Results!
Request A Sample
Benefits of Outsourcing Amazon Listing Optimization Services
Rev up growth in Amazon business - get higher rankings, visibility, traffic, & leads by partnering with SunTec Data for Amazon listing optimization!
Increased Sales & ROI - Effectual product listing optimizations for existing and new listings to drive continual traffic and sales.
Extensive Keyword Research - Selecting and targeting relevant and high-volume search terms that ensure maximum leads and conversions.
Vetted Copywriters - Getting highly optimized, informational, precise, and relevant product copies written by expert product description writers.
Timely Performance Tracking & Reporting - Sending performance reports continuously to assess the results of Amazon product page optimization services.
Thorough Analysis - Analyzing competitors and the market to get insights into keyword and pricing strategies.
Professional Team - Access to a dedicated listing optimization team that can efficiently build and manage your Amazon store.
Guaranteed Results - Obtaining tangible, measurable results from listing optimization for Amazon, like higher rankings, visibility, and sales.
Amazon Prime Day Focused Amazon Store Optimization Services
Boost Your Sales On Amazon Prime Day Every Year With The Industry's Best Amazon Product Listing Optimization Services!
Amazon gives sellers millions of opportunities to grab bigger chunks of profits. Every year, this fact gets highlighted when the giant marketplace sets up multiple special sales events. One of the biggest ones is 'Amazon Prime Day.'
Our optimization specialists help you thrive on these special yearly events via our best-in-class, process-driven Amazon listing optimization services.
We execute the industry's best results-driven approaches to prepare your Amazon storefront for the Amazon Prime Day, ensuring better performance and profitability. From planning the entire content of your Amazon product pages to storefront optimization, we execute all processes with utmost perfection.
Besides Amazon store optimization services, we also provide event-specific Amazon marketing/advertising and PPC management services. All these extended services ensure additional benefits for your Amazon businesses.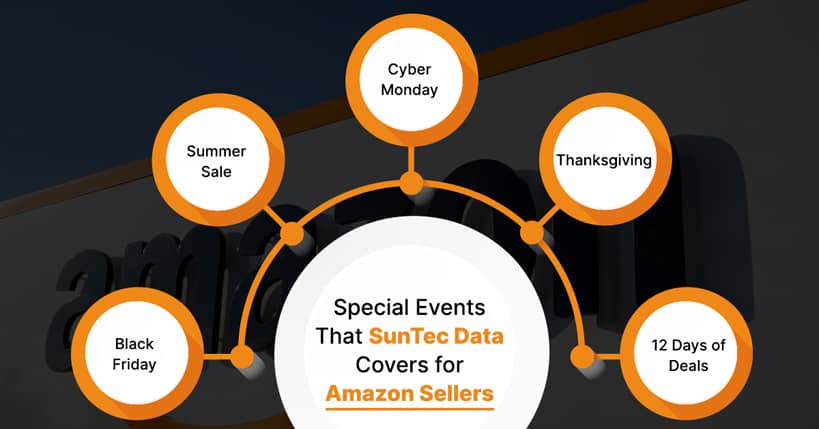 Get A Bigger Chunk Of Profit On Amazon Prime Day With Amazon Product Listing Optimization Services From SunTec Data!
Start Your Free Trial Today!
Why Outsource Amazon Optimization Services To SunTec Data?
Here are the key reasons why giant industry businesses across the globe choose us for outsourcing-

Escalate your reach and get maximum conversions and leads with SunTec Data and our result-oriented Amazon listing optimization services.
Discuss Your Amazon Listing Optimization Process With Us
We invite you to take a Free Trial of our Amazon product listing optimization services and experience the high-end results that our Amazon optimization team will provide you with. Drop us a line at info@suntecdata.com to get expert consultation and learn more about our Amazon store optimization services.
Amazon Optimization Services: FAQs
Why Outsource Amazon Listing Optimization Services to SunTec Data?

SunTec Data is a two-decade-old service provider of comprehensive Amazon listing optimization services to various clients from industry verticals. With our end-to-end Amazon listing optimization, we have delivered excellent outcomes, like better rankings and higher organic traffic to thousands of clients. Outsourcing Amazon store optimization services to us can get you numerous advantages, which are as follows -

Industry's Best Prices
Timely Performance Tracking
Customized Solutions
Latest Tools, Technology, & Software
Dedicated Project Manager
Quick Turnaround Time
24/7 Assistance
What Process Do You Follow For Amazon Listing Optimization?

At SunTec Data, we offer best-in-class Amazon listing optimization services following a specific listing optimization process-

Step 1: We thoroughly analyze our client's project requirements and their challenges.
Step 2: We define optimization issues in existing listings and figure out the solution for ones that require fixing.
Step 3: We strategize a full-proof plan customized by the client's distinctive business requirements and objectives.
Step 4: After getting approval for our multichannel campaign strategy, we initiate Amazon listing optimization.
Step 5: Once the Amazon listings get optimized, we continuously keep a tab on trackers to ensure better performance and support the sales team.
Step 6: After accomplishing the goal, we draft an outcomes report for the client.
How Much Does It Cost To Outsource Amazon Product Listing Optimization Services?

As the industry's best Amazon listing optimization services provider, we ensure that our clients pay only for the services they get. Thus, we have many custom outsourcing pricing models in place from which you can select the best suited according to your project needs. For more details, you can drop us your requirements at info@suntecdata.com and get a free consultation for Amazon optimization services.
How Do You Find Relevant Search Terms For Effective Amazon Store Optimization?

Extensive keyword research is an integral part of our Amazon product page optimization services. First, we comprehend your domain and target specified product niches, supporting products, and Amazon & Google search queries to get an idea of organic search terms. Then, with advanced technology support like Helium10, Amz One, MerchantWords, etc., we find applicable, contextual, and relevant search terms to add to your copies for better rankings in SERPs.
What Is A Definition of An Excellent Product Page?

A good Amazon product page consists of many elements, including:

High-Quality Product Images
Content (Title, Listings, Bullet Points) Added With High Search Volume Keywords
Backend Keywords
Genuine Reviews, Ratings, & Feedback reviews
Most Asked FAQs
Easy Navigation

At SunTec Data, our experts cover all these pointers when creating a listing to ensure higher performance. Additionally, we also work on client's Amazon brand storefront, A+ content, and product videos to enhance engagement.