Data Security
SunTec Data is a division of SunTec India which is ISO 27001:2013 Certified for Information Security Management.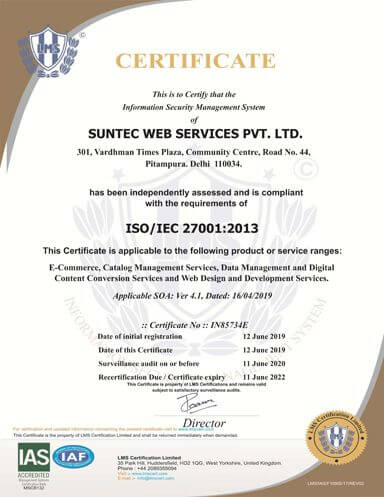 The security and confidentiality of your data is of paramount importance for us. When you trust us with your data, we never let you down.
All the employees at SunTec Data are signatories to strict confidentiality and non-disclosure agreements and will never compromise on the security of your data. Only bonafide employees are allowed on our premises. To bar strangers we have installed biometric recognition systems on all our floors.
We also use full disk encryption mechanisms and encrypt all the data existing on a hard drive. In case it is not viable, we mask some especially sensitive data in a database so that it is not leaked. At SunTec Data an operator can access a terminal only after providing user authentication. All our computers are protected by the most advanced anti-virus software which is updated every day. We also have installed fire wall security to protect our network. Network security is further enhanced by separating incoming and outgoing communication lines.
When a project is underway, a dedicated Project Manager ensures that only the professionals working on it get to access the data related to it. If a client desires, we can deliver a finished project as a secure FTP download to preclude data leakage. Hard copy documents, if there be any, are either destroyed at the end of a project or returned to the client.
Find out how SunTec Data can help you in making the most out of your critical data. Please get in touch with our experts for a free one-on-one consultation or email us at info@suntecdata.com.
WhatsApp us