Data Marketing Services
Customers remain at the center of every business, regardless of size and type. It's every business's responsibility to keep its customers close and prospects closer; which brings us to data/database marketing.
Helping you leverage your customers' data to deliver more personalized, relevant and effective marketing messages to them, data marketing services are extremely critical for businesses who are keen about knowing their customers. Accumulating customer information and analyzing it, is an ongoing struggle for most businesses. While some find it easy to pursue 'big data' at the expense of the right data, others find it hard since their major focus is on relevant data.
A database marketing strategy that is not optimized for business-specific needs just helps in knowing the maximum customers, instead of knowing enough about the right customers. Sources of information come in diverse forms, and they can often be disparate – preventing you from knowing and understanding things needed to sell more effectively. This needs to be changed and reliable data marketing service providers can change it.
SunTec Data- Your Data Marketing Solutions Partner
Having an in-depth understanding of your market is critical to business success. Right market data facilitates you in making informed long-term decisions, and we understand this well.
With expertise in data marketing services, SunTec Data helps you convert your customer data into productive marketing campaigns - right from creating and/or validating targeted mailing lists of prospects to offering insightful and dependable sales support services; we have single-mindedly focused on bringing in the right marketing outcome, and forging a long term partnership with you.
We have the experience and professional marketing talent necessary to help you outplay your competition and make your mark. It's what we do, every day, to help your company lead and succeed in your industry.
There is no data request our hands-on team of industry-leading experts can't handle. Get reliable and accurate data about your clients, associates and competitors with marketing data and custom list building services from SunTec Data. You are just one call away from your complete data solutions partner.
Constructing Single Customer View Database
Our Services help you maintain a higher level of data quality, analyze customer purchase and response history, precisely target and profile current as well as prospective customers and monitor other key metrics to implement successful business retention and growth plans.
There are several internal and external sources of data that our data experts aggregate to construct a single customer view database, including: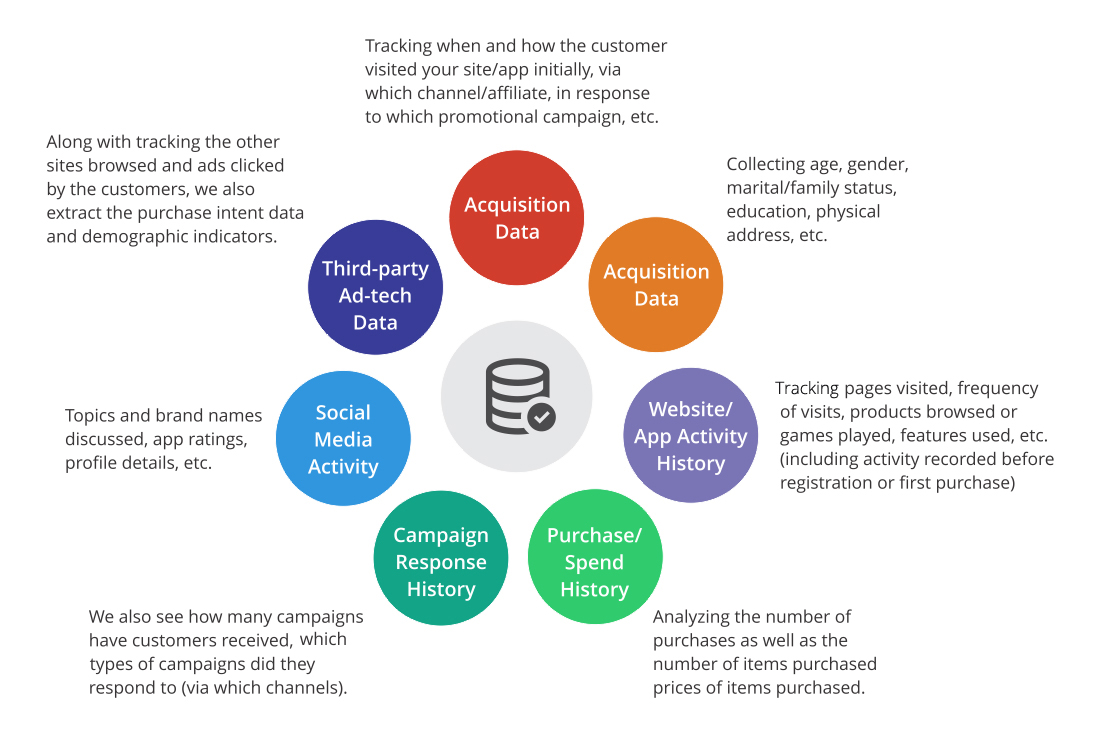 Our Complete Range of Data Marketing Solutions
With SunTec Data, improve the effectiveness of your campaign, target the right audience, and make the most of your marketing dollars. Take a look at our key Data Marketing Services.
Email Campaigning

Custom List Building
Personalized email campaigns
Email Campaign Analysis
List Management

Sales Support Services

Contact Discovery
Account Profiling
Event Data Management
Lead Qualification

List Processing

List building
Data Enrichment
Web Research
We Provide Customized Data Marketing Solutions to Benefit Your Business
We are leaders in providing database marketing services, and we specialize in customized data marketing services to suit customer requirements. We know that understanding customers for your business domain is crucial. Therefore, we provide custom data marketing solutions to help use customer data in the best possible way. Our customized service sends messages and marketing emails to customers and builds a stronger and more well-connected bond with them.
We are a data marketing company that specializes in custom database marketing services, therefore we have a good experience along with a decent set of skills in creating customized solutions and providing services that can benefit your business. As a part of our customized data marketing services, we will first understand your business domain and discuss your business requirements. Next, we will analyze your existing data for accuracy and relevancy. If everything is clear from our end, then only we will create customized marketing campaigns targeting your business nature and customer base.
We know how important it is for your business that your customers receive relevant and specific communications via emails. We design marketing campaigns for clients keeping in mind their choices, buying patterns, purchasing power, etc. It helps connect with customers and improve the visibility of your brand. We use numerous techniques like segmentation and advanced analytics to help you send relevant and personalized messages and email to your customers.
Why SunTec Data?
Our multichannel data marketing strategies offer extensive solutions to help you achieve greater market saturation and ignite your advertising as well as sales campaigns. This further allows you to reach a wider customer base while retaining and developing your current client relationships. Use them to enhance your lists or build brand-new ones.
Accurate, Responsive Data
We provide you 100% accurate data so that you target only a specific set of people, who are a perfect fit for your business leads and save some extra dollars.
Grow, Make Better Decisions
Once you start targeting people who will most likely react, you can expand your business manifold and make better business decisions.
Real-Time Updating
Leverage our highly targeted email marketing data to experience better ROI, prove impact and drive measurable results.
Connect With Us Today!
SunTec Data is a reputed data marketing company that provides database marketing services to mark all your data marketing needs for your business. We take data marketing projects and provide astonishing and eye-catching results. We are the market leaders and have the skills and resources that let you connect with your customers efficiently. We offer premium services at a low price that will not be heavy on your pocket. We are confident about our services because of our talented data marketing team. We rely heavily on our team to deliver high-quality results to our customers that believe in our services. If you want to outsource data marketing services to a reliable vendor, then do not have second thoughts and connect with us, we assure you that you will never regret it.
We showed our presence in the market two decades back and since then have been focusing on providing excellent data marketing services that can suffice the needs of our customers. With the support of our innovative team, we have achieved a remarkable and prestigious reputation in the market. Our aim to achieve excellence in our work helps us to grow each passing day, month, and year. What has led us to our successful career graph is that we never compromise while we hire experts in our team. All our experts in the data marketing team have the required experience, skillset, and capabilities to provide custom and premium database marketing services to our customers. If our portfolio or services attract you, please connect with our experts to discuss your project-related queries. We are just a phone call or an email away and you can drop us a consultation request at our email id info@suntecdata.com. If you want to call us, then we are reachable at +919311468458.
FAQs
What data must be a part of your marketing database?

There are specific data that should be included in your marketing databases, and this is generally business data and contact details of your customers. Business data in your database should be anything related to your business, like the footfall of a specific location, consumer behavior, purchasing power, etc. While the majority of the data is regarding the contact details of your customers. Contact details in your marketing database should include information like names of your customers, their phone numbers, physical addresses, email addresses, etc. Purchase history and customer support history should also be part of your marketing database.
What are the challenges that business owners usually face with database marketing?

There are many challenges that business owners go through while performing database marketing on their own or in-house. Some of the challenges are mentioned below:

Disparate data

One of the challenges is that the sources that companies use to collect data can gather the information that is different from one another. It is then challenging to perform the required action and leverage the data to benefit the company or the business.

Low-Quality data

Another challenge that enterprise and business owners face with database marketing is to maintain the quality of the marketing data in their databases. Data including the contact information of the customers must be included periodically to make sure that you have relevant and accurate information in your database.

Un-Skilled Resources

Even if you have high-quality marketing data in your databases, there are chances that you might not get good results out of your marketing campaigns. The reason can be the unavailability of skilled professionals like data researchers and data experts. You will always need a team to handle your data marketing campaigns well.

All the above challenges can be handled or overcome if you will outsource data marketing services to the market leaders that are experts in achieving high-quality results.
Can database marketing boost customer relations with my business?

Yes, if conducted professionally, you can improve your customer's relationship with your business. Keeping a high-quality and updated marketing database promotes effective communications with your customers. If you have the correct information about your customers, there are good chances that the emails and messages that you will send to your customers will reach them.
Why should I outsource my data marketing services to SunTec Data?

A good and accurate database is required to create effective marketing strategies and conduct successful marketing campaigns. Also, conducting marketing campaigns that can drive results need professional assistance. Therefore, it is advisable to connect with professionals before performing any step related to data marketing. One such market leader is SunTec Data, you can opt for our services to get results that can boost your sales and improve your conversions.