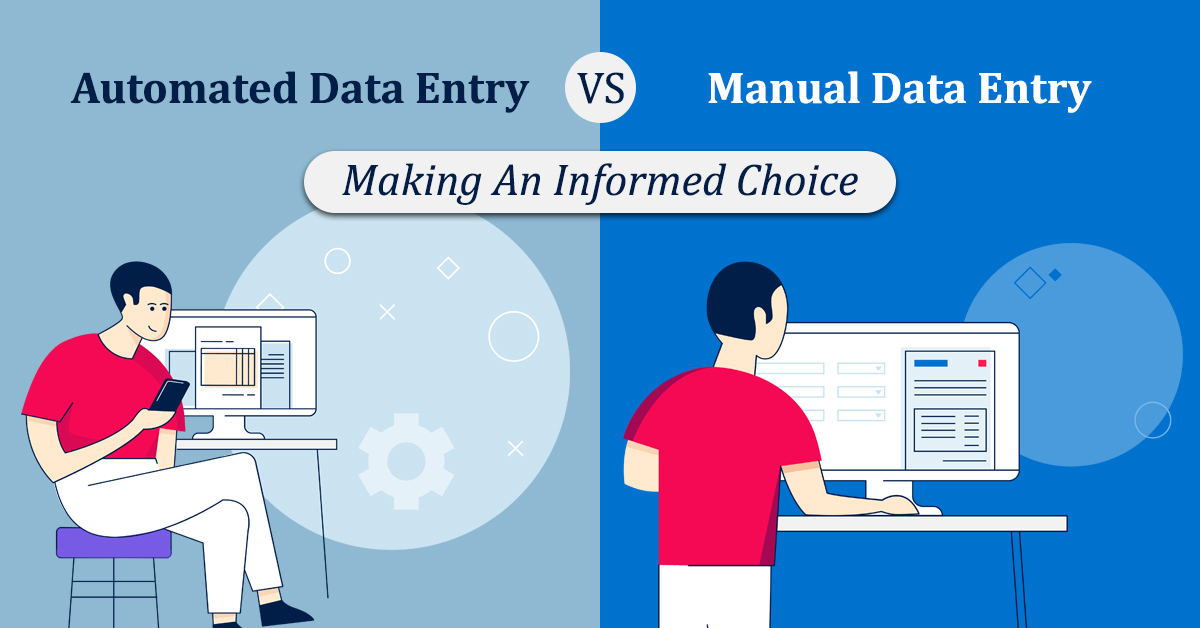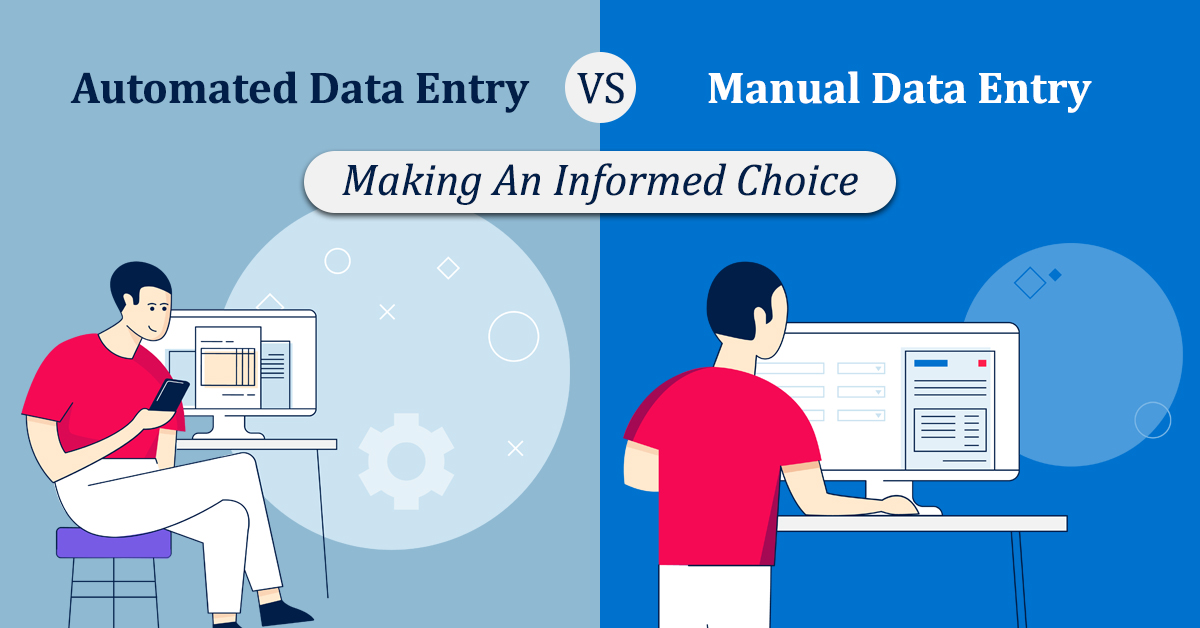 In the times where data is the backbone of businesses, keeping it all updated, neat, tidy, and managed is the key to success. From receipts to tax invoices to inventories to personnel data, businesses store tonnes of information, some of which might even be linked to statistics of some sort. Thus, it is of utmost importance to keep this data error-free and have easy, fast access to it. Failure to do so may bring in complications with a direct impact on the business.
Though all business processes require various resources including time, effort, and capital, invoice and receipt data entry is possibly one of the most cumbersome processes. Making sure your data entry process is as well-organized and structured as possible, is crucial to optimizing bookkeeping workflow, especially for companies who have large volumes of data to handle.
Now before we dive into the types of data entry i.e. manual data entry and automated data entry, we must know the importance of data entry services or why companies need data entry services.
Why Do Companies Need Data Entry Services?
Businesses, today, breathe data. They create and receive high volumes of documents daily including invoices, contracts, receipts, bank statements, and tax invoices among others, all of which hold great importance in carrying out business operations. Maintaining up-to-date and accurate records of these documents is indubitably as important as having these documents, and this is where online data entry services help you. While the process of entering information might seem simple, the time consumed is much more than you'd expect. When you hire data entry specialists, you not only end up saving a considerable amount of time, which can be invested in other productive business tasks but have an expert team by your side who can handle your databases, research, process, and analyze critical information for your business. Other benefits include:
Keeps all relevant information in one place and in the correct order for reference.
Promotes employee efficiency, which, in turn, helps in better business management since any missing or unavailable information could negatively affect employees' overall performance.
Greatly reduces the chances of costly errors in your business.
Reduces the cost of operations.
Digitizes the data which makes it both easily accessible and available across different platforms.
Having said this, there are two ways in which data may be entered into the databases: automated data entry and manual data entry. To help you make an informed decision and make the most of data entry, we'd like to take you through both.
Manual Data Entry
As the name suggests, manual data entry or manual data capture, as you would like to call it, is the process of collecting and consolidating data from various sources, often physical such as papers, and entering it into a system. This is an age-old practice that is followed even today by several firms, depending on their requirements.
Advantages
It doesn't require expensive systems, machines, and programs which makes it suitable for businesses who want to keep their initial costs low. Also, it is a great option for companies that neither require large volumes of data to be processed nor high-speed data entry operations.
In cases where data has to be entered from documents that might be difficult for computers to recognize and comprehend, manual data entry proves to be highly effective and efficient. For instance, several handwritten documents, ancient manuscripts, medical records, or doctors' prescriptions can only be decoded by human eyes.
When records are handled manually or kept by hand, you can control which category each individual number is placed in. In cases where your business finds it difficult to track sales in an automated way, you might need a manual data entry method to track these numbers.
In an era where jobs are hard to find, manual data entry opens up good job opportunities and creates employment while offering people a means of livelihood.
However, since every peak has a valley, there are downsides to this method too.
Disadvantages
No matter how skilled data entry professionals are, humans are bound to make mistakes. These mistakes may arise from carelessness, misunderstanding, or boredom and could negatively impact your business operations.
Entering data manually consumes a lot of time. This occupies a major chunk of employees' time which could otherwise be invested in other productive business activities.
As the volume of data to be entered increases, the probability of errors and inaccuracies in the database also increases.
It requires some extra effort in hiring and training the workforce to meet the basic standard required to perform the assigned tasks.
Automated Data Entry
The aim is the same, which is data capture and collection. However, the difference lies in the way it is done. Automated data entry is done via electronic aids such as scanners or computers with Optical Character Recognition (OCR) software. It is a perfect solution for companies handling large volumes of invoices and receipts.
Advantages
Automated data entry is a speedy process; it processes and stores files in a much faster and easier way. Also, if the service provider has access to cloud storage, file retrieval in case of any loss of data is quite possible.
When everything is automated, you could cut hours of work down to seconds while saving time which can be used for training employees into more profitable roles while giving you higher returns.
Compared to manual data entry, automatic data entry reduces the possibility of errors. Documents can be filled out, stored, retrieved, and used in a much more accurate manner. The fewer the errors, the more efficiency, savings, and profits.
Disadvantages
While machines generate high productivity rates, they are often designed for specific tasks, provided with input, and based on instructions to deliver the suitable output. If the input deviates slightly from its intended form, a machine simply could throw an error(s), or stop functioning properly.
Automation requires a large capital investment or contacting fees which might not be variable for small businesses.
Manual Data Entry Vs Automated Data Entry: The Overview
If we were to talk about similarities, both manual data capture and automated data entry serve the same purpose i.e. data capture. However, the only difference is how they evaluate documents. Manual data entry works for paper-based documents which are hard for a machine to read or evaluate. Further, online sources which cannot be inquired or read easily by any software are handled manually. Since it is a monotonous and demanding job, the chances of errors are high and thus meant for companies with fewer data requirements.
The latter i.e. automated data entry works for photographed or scanned originals. Once the printed or handwritten information is read and sorted automatically, OCR software comes into the play and stores it instantly. This is a speedy process, suitable for companies with large volumes of data that need to be processed accurately.
Choosing The Right Data Entry Method And Partner
As we have seen, both methods have their own pros and cons. Automated data entry, on one hand, falls in line with today's technological advancements, manual data entry services are still a viable option, especially when the volume of the data to be processed is small. However, it all boils to one thing: your requirements and how much you are willing to spend.
Talking about choosing the right service provider or the partner. Well, you should choose a company that provides both automated and manual. Some providers only deal with manual data entry due to budget constraints since automated data entry requires higher expertise and machinery.
Luckily, SunTec Data offers a comprehensive range of manual and automated data entry processes for all sorts of businesses. With more than a decade of experience, we have an adept team of data entry professionals who use cutting-edge technology and tools to deliver exceptional services. Regardless of the volume of data to be stored, we aim to maintain near 100% accuracy while leaving no room for errors, mistakes, or data losses.