Outsource Data Research and Analysis Services
Businesses need to make critical decisions and formulate marketing strategies based on customer and market insights. Their operations, planning and execution could also very well be centered around these insights that in turn depend on the invaluable data procured by the business related to those segments. Such a valuable asset requires rigorous data management, and in particular, research and analysis to produce those actionable insights.
SunTec Data's Research and Analysis Services can help you gain easy access to business-critical data that's secured in business databases. Our experts can also lend a helping hand in abstracting data from various external sources like market data, company reports, and social media, leveraging our gamut of data analysis and data research services.
Our experts are adroit at researching, structuring, synthesizing and generating richer insights from structured, semi-structured as well as unstructured documents, supporting global clients in harnessing the potential of critical data and empowering their decision making process.
Data Research and Analysis Services at SunTec Data: An Overview
SunTec Data brings a big-picture approach to research, analyzes critical information, and delivers accurate and reliable results so that you can make smarter, faster and well-informed decisions. With our in-depth experience and domain expertise in data research analysis, we help clients transform insights into competitive advantage.
As part of our wide range of data analysis and data research services, we provide support right from collating important information through to analysis, synthesis, and the generation of the final report based on it. Your business is guaranteed to benefit from our end-to-end research and analysis services with the leverage gained by the insightful reports.
Primary & Secondary Data Research Analysis Capabilities of SunTec Data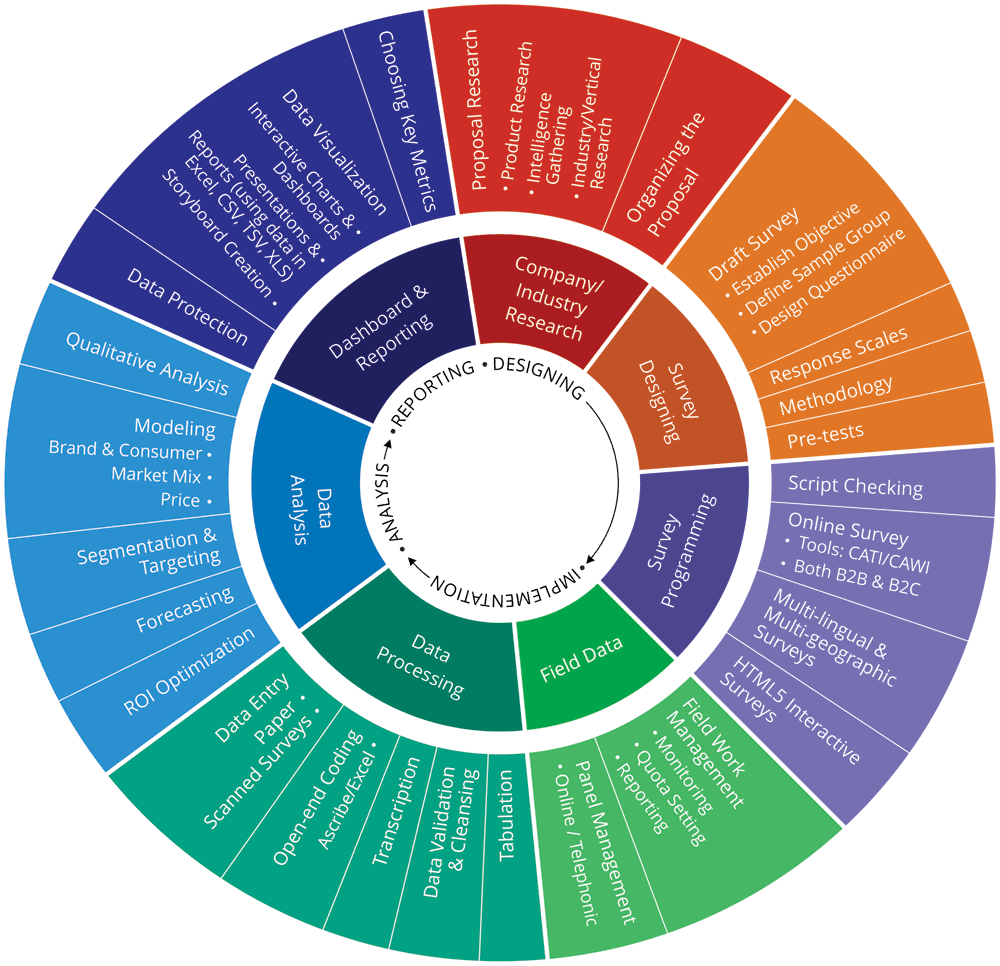 A Glimpse of Our Research and Analysis Services:
Business Research: We help our clients find and understand clients, forecast industry trends, learn about their competitors, vendors, and partners, as well as the latest industry developments.
Company Research:

Detailed and customized company profiles including mission and vision statement, key products and services, estimated revenues and headcount, locations present, etc.
SWOT analysis of companies with respect to business challenges at hand
Competitor benchmarking with respect to a particular product/ service or an industry in general
Organizational chart mapping with information on key executives

Industry Analysis:

In-depth industry and sector reports including market sizing, industry segmentation, PESTLE analysis, demand-supply analysis, Porter's five forces analysis, etc.
Competitive landscape analysis
Historical trends and analysis, and tracking latest industry developments
Market Research: Over the years, we have created a distinguished reputation as a data research company in the marketing research space. We support our clients in identifying and assessing target markets, understanding and exploring consumer behavior, studying market size, analyzing competitors, benchmarking, etc. Our broad range of market research services, include:
Reporting and Analytics: After collating business-critical information based on specific criteria, our data research analysis services provide detailed reports in a suitable file format or through a well-designed, compact dashboard to help you accelerate time to market, and uncover opportunities.
Data Visualization includes the creation of various kinds of charts to depict industry trends and convert them into reports/ presentations and infographics, etc.
Dashboard Design to help track KPIs
SunTec Data's AEIOU Engagement Philosophy For Data Research Analysis

Industries We Cater To In Our Research and Analysis Services:
As a driven, professional data research company, SunTec Data has supported businesses in gathering data and conducting qualitative and quantitative research studies for more than 15 years. The experience gained over these years delivering our research and consulting services to some of the Fortune 500 Companies, leading consulting agencies, Government organizations, Market Research firms, etc., covers all industry verticals including banking, retail, manufacturing, health care, media, and service industries.
Retail and eCommerce
Manufacturing
Technology, Media and Telecom
Energy and Utilities
Take A Look At Our Research and Analysis Services' Key Differentiators
We strive to stand apart from the competition so that we may help your business do the same when you outsource data research and analysis services to us. A focused and data-driven approach towards our services has made us a longstanding and recognized market player with numerous credentials and accomplishments.
When you choose us for your data research analysis purposes, you will be choosing a company with:
15+ years of experience in delivering world class BPO and KPO service solutions
State-of-the-art market research data collection and analytics software
Experienced project management teams
Tailored solutions in tune with our client's exact requirements
A Global Clientele scattered across USA, Canada, UK, France, Germany, and other European Countries, Australia and Asia-Pacific
Assures Confidentiality, as we sign NDA for each project
Competitive pricing
With a combination of the above factors, and our persistent emphasis on being meticulous with our every action on your data as a part of our research and analysis services, your business can be expected to experience market expansion and enhanced brand value among your present and prospective customers.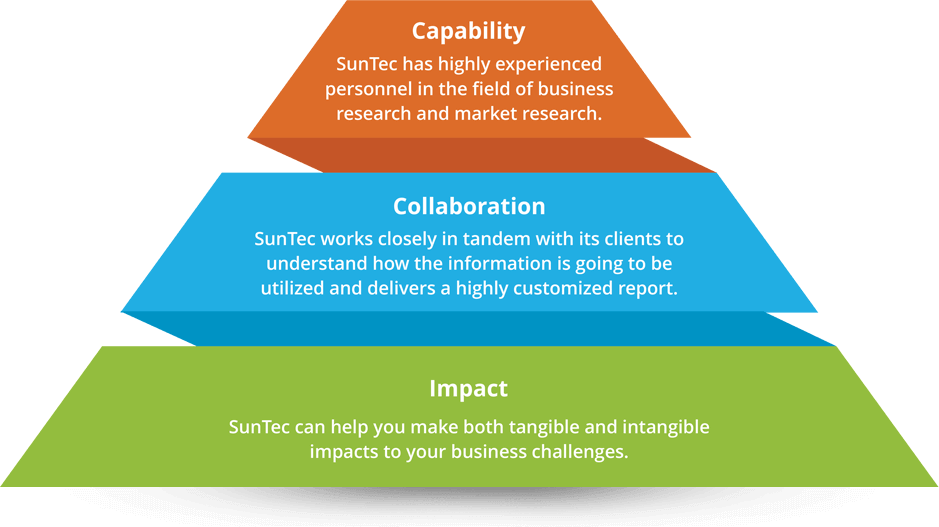 Case Studies
Getting Started With Us as Your Data Research Company
The first step tends to be the hardest part of tackling challenges, but not with SunTec Data. With our intent to be a customer-first company, we are always readily available to render our help when you outsource data research and analysis services to us. Our setup will help throughout the data research lifecycle, allowing you to ease up on those responsibilities and focus instead on your core business objectives and the corresponding operations.
With the insights provided by our comprehensive and timely data research analysis, you can even streamline those operations to make them more efficient, avoiding redundancies, mistakes, and loss of resources. Those losses are further curtailed due to our services being provided cost effectively and with quick turnaround times, resulting in improved ROI and time to market.
You'll also be informed of the impact your marketing efforts are having, and about any changes you need to make to improve the content for greater market penetration and brand name retention among your target audience. Our reporting will let you recognize possible untapped market segments and help with brand recognition among them. Your brand value is bound to skyrocket in every avenue of your venture.
And all that is required to make it happen is for you to Contact us today for a free consultation request. You can also write-in to us at info@suntecdata.com and our experts will get in touch with you in the shortest possible time-frame for the fastest and best sampling of our proven services.
FAQs
What are your capabilities to deliver quality data research results?

Our company has a slew of experts who are skilled and experienced at data analysis and research. We also use a multitude of AI/ML software to carry out the associated tasks to further improve accuracy and turnaround times. The combination results in affordable and accurate data insights for you to rely upon while drafting company policies.
What data sources will you concentrate on for better customer and market awareness?

We will devise and implement surveys to gather customer data. We will also combine data from online sources such as your website and social media pages to further increase market awareness with the use of important KPIs like CTR and bounce rate. Comments and ratings are also looked into to gain a better idea.
What are the advantages you offer for outsourcing data analysis and research?

SunTec Data is an established company with a reputation for delivering the best of services in the industry. We have the experience of providing service to Fortune 500 companies for over two decades and have a global clientele. We use state of the art market research and analysis software while also incorporating optimized methodologies for the job based on our experience. And we offer unmatched data security and privacy, all for a reasonable price.
What are the common methods used for Market Research?

SunTec Data utilizes Questionnaire/ Survey Design, Survey Programming, Telephonic Interviews, Web and Email Surveys, Data Analysis and Coding, Verbatim Coding, and Visualization and Reporting for its market research purposes. They are all effective in giving the complete picture of the market's requirements and your company's standing in relation to it.