Transform Data into Intelligence with Our Data Intelligence Solutions
Data is at the center of everything in your organization – be it finding a new market for your business, devising marketing plans, or analyzing the success of your marketing efforts - accurate, updated data gives actionable insights and true business outcomes.
To maintain the accuracy of data and keep your business updated at all times, there is a dire need for mining and other data intelligence solutions. Today, data intelligence incorporates both artificial intelligence and machine learning tools, which permit organizations to analyze enormous amounts of data much faster and reliably than if done manually. Moreover, data intelligence helps expedite analytics by arranging data neatly and establishing clearer models for warehousing, and scrubbing large data sets.
Collaborating with a data services provider to fulfill your need of a data intelligence company can help you with a larger bandwidth of services, coupled with expertise and precise knowledge that is hard to come by.
Get the Most of Your Data with SunTec Data as Your Data Intelligence Company
Corresponding to the rising need for the delivery of accurate, reliable, and well-timed data and information by business analysts, managers, customers, and associates, SunTec Data provides a wide range of data intelligence services custom-made to your project's needs, ensuring the accessibility of business-critical information.
Our experts collect data that provides a greater context, including descriptive analytics and prescriptive analytics tools, to help you determine whether the dollars you are spending are providing returns or if they can be better allocated elsewhere. For organizations whose services are performing effectively but not experiencing growth, our data intelligence services can provide insight into areas where services may be optimized and possibly reveal different approaches that may be more effective over the long run.
The team at SunTec Data works to maximize the effectiveness of your data by creating insights and intelligence. We are committed to a data-driven and information-based approach. With our business and data intelligence services, we can help you gain insight into your customer behavior, recognize common data patterns, and eventually organize it in a manner that lets you easily target your segmented markets.
Getting Started With Data Intelligence Solutions- Our Process
Our ecosystem is secure from design through delivery and combines in-depth process expertise, intelligent process mapping tools, machine learning, and cognitive intelligence systems.
The following process applies to most of our data intelligence efforts; however, we always identify your goals first and decide whether each step is required.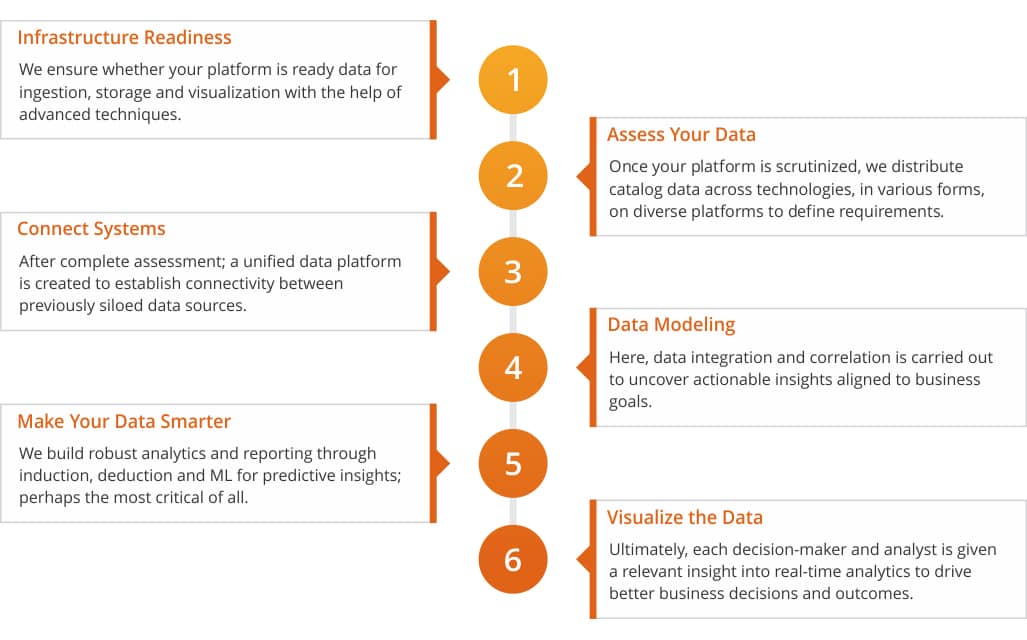 Data Intelligence Services at SunTec Data
We at SunTec Data offer a wide array of data intelligence solutions that will turn your data into actionable insights.
Data Verification

We'll ensure that your data remains accurate and error-free via our double data entry practice and proofreading. A combination of automation and human intervention will be used to give you expedited results and exceptional data accuracy.

Data Normalization

Your data is sorted into corresponding categories in the database of your choice always. We use sophisticated algorithms to categorize and match your data for ease of access and redundancy elimination.

Data Cleansing

We'll keep your database free of incorrect, inconsistent, irrelevant, and incomplete data with our data cleansing services. We'll leave no room for outdated, untrustworthy, and erroneous data to impede your decision-making process.

Deduplication

Our deduplication process will be carried out using the latest and most secure software for a clear and pertinent data set. We'll help save on your vital database resources and prevent forking of the same data used by different teams.

Data Migration

Seamless and precise data transfer between any number and type of systems you require. We also conduct data migration between your cloud databases of different operators. We can also perform any transformational operations during the process for a full-fledged ETL experience.

Data Audit

Trim your project execution process by excluding unwanted data from it via our data auditing. We'll assess the multiple parameters of your project and qualify the corresponding data for organizational and process impact. Our software tool for the job will also aid in the elimination of problematic data that could possibly compromise the security of the system.

Profiling and Segmentation

We'll help you understand your customers better through the profiling and segmentation of their data. You'll get deep and accurate insights into their personas that will enable effective targeting marketing and value addition for greater ROI. Also, get improved functionality of your CRM via the inclusion of filtered data into its processing.

Custom Reporting

Stay on course with the modern remote and networked working setup through our custom reporting services for your data. Reach every end consumer of your reports irrespective of their location for a truly synergistic operational experience.

Lease Abstraction

Multiple lease agreements containing many different terms and conditions will not be a problem for you anymore with our lease abstraction services. We'll extract the most pertinent points of your lease documents that'll inform you of the entire situation without distracting you and your respective teams from their more important duties.

Contract Abstraction

Feed your contract management system the most relevant data it needs to perform most efficiently and provide you with on-point contractual information. Our contract abstraction process will clip out the essential contractual data via our experts and appropriate software tools to leave you with a clean, ambiguity-free insight into your business deals.

Email List and List Building

Leave no recipient behind in providing them with the right information and at the right time through your emails. We will collate and categorize your email data via sophisticated data mining of numerous data sources into comprehensible and accurate address lists customized to your requirements.

Transform Customer Experience with Data Driven Decision Making By Data Intelligence Solutions
SunTec Data's data intelligence solutions practice is experienced in designing and delivering data analytics and business intelligence solutions. With a portfolio of market leading vendors, our data intelligence experts help partners to find opportunities and build the necessary skills to turn data insights into positive action.
Above all, we follow a systematic approach and proven methods to help you discover the hidden value in your data assets and facilitate informed decisions as well as data-driven decision making.

Partner with Us for Data Intelligence Solutions Needs – The SunTec Data Advantage
We are a data intelligence company whose portfolio spans across the market, with solutions that allow businesses to ingest data from multiple sources, transform and analyze the data, and eventually respond to the insights gained. Once you partner with us, you can
Get ahead of your competition
Develop new services that respond to changing customer/market demands
Plan ahead and predict outcomes with greater accuracy
Make data driven decisions
Identify opportunities to operate more efficiently
Discuss Your Project With Us
For more information on how SunTec Data can help you with your Data Intelligence Services needs and business intelligence requirements, please get in touch with us at info@suntecdata.com or on +919311468458.
It's Time. Start Transforming Your Business Processes Now.
FAQs
What's the pipeline followed to give the optimal data intelligence result?

The established data intelligence services pipeline by SunTec Data to give your business the best data driven decision making ability is Business objective defining, hypothesis establishment, data need identification, data process building, data collection, data analysis, and decision making. The result is true actionable insights into your organization's functioning and a guideline in constructing future courses of action.
Do you use AI/ML for data intelligence services?

AI/ML is at the core of our data intelligence services. The actionable insights we provide are the result of transformative processing capabilities of the latest in those technologies that we employ for the job. Our experts are also trained at handling them to further optimize results.
How do I benefit from data intelligence exactly?

A modern business is driven by data and only its best analysis by a professional services provider like SunTec Data can deliver the required insights. It makes your business better able to predict market changes and adapt preemptively to them. IT alos makes your entire operation more efficient by identifying redundancies.
How will you conduct your reporting?

SunTec Data's reports are data visualizations that contain the results of data analysis in a comprehensible and accurate form. We use simple yet effective methods to relay the pertinent information to you in a concise and distributable manner.
What differentiates analysis from reporting?

Analysis of data is the process of transforming data and information into actionable insights. Reporting on the other hand lets companies know when data falls out of their expected ranges' purview. Thus, reporting gives a glimpse about the situation and analysis allows you to discover the reason behind it.