Outsource Data Entry Services
Streamline your business operations with scalable and affordable data entry outsourcing solutions from SunTec Data.
SunTec Data offers a complete suite of data entry services to help businesses manage large data volumes with ease. As a leading and globally trusted data entry outsourcing company, we have established our forte in facilitating advanced data entry solutions for enterprises of all sizes.
Reliable Data Entry Outsourcing for Diverse Business Requirements
We cater to a wide range of industry verticals, including real estate, banking, insurance, non-profit organizations, universities/institutions, DMS companies, healthcare, law firms, marketing agencies, and several others. Our data entry experts can easily process business-critical information and organize it in an accessible format.
From capturing information in printed or scanned files to entering data from images, surveys/ questionnaires, insurance forms, and other documents, our data entry outsourcing company can handle a wide range of requirements. Our proven business processes, qualified data entry specialists, state-of-the-art infrastructure, and stringent security protocols guarantee error-free outcomes at cost-efficient prices and a quick turnaround time.
A Wide Array of Data Entry Outsourcing Services

Outsource data entry services to our specialists and get a solution to every data management challenge that you may be facing currently. Outsourcing data entry projects to SunTec Data gives you access to a wide array of standard data entry services.Additionally, it also gives you the flexibility to choose a customized data entry solution for your particular needs.
We manage and update your CRM/ERP platforms, web-based catalogs, and other online databases. Our data entry outsourcing experts capture data from diverse sources and enter it with utmost accuracy and precision into your database.

When you outsource data entry services to us, we collect and collate data from multiple sources, such as financial records, insurance forms, business cards, company reports, legal documents, product catalogs, email lists, etc., and carefully enter it into the database of your choice.

We support businesses in utilizing vast volumes of data stored in images by creating a dependable database that can be easily accessed and retrieved. Our data entry outsourcing experts extract information from various image formats, such as BMP, GIF, JPG, PDF, etc., and store it in your preferred file format.

Experts at SunTec Data skillfully capture data from printed/handwritten documents, such as magazines, yellow pages, periodicals, journals, resumes, scanned forms, invoices, manuscripts, etc., and enter it in a suitable format.

As one of the reliable data entry outsourcing companies, we are well-versed with tools like Adobe Acrobat, Nitro PDF, etc., and utilize them to efficiently deliver PDF data entry services, including PDF text conversion, PDF data entry to Word, PDF to Excel, or any other. Our specialists extract information from scores of PDFs and enter it in an easily accessible format.

Survey/Questionnaire Data Entry Services

We employ our data management skills to extract relevant information from surveys/questionnaires and accurately enter it in your desired format. You can easily access the information and utilize it to reach your target audience, discover customer preferences, and observe the latest market trends.

Forms Data Entry Services

Data entry outsourcing professionals at SunTec Data can key in pertinent information by processing digital or handwritten forms with complete accuracy and zero errors. We can process multiple types of forms, including insurance, application, examination, market research, travel claim, healthcare check-ups, mortgages, OCR forms, and several others.

Invoice Data Entry Services

We provide a wide spectrum of invoice data entry services for purchase orders, sales and transactions, tax, credit/debit memos, etc. Our experts understand your specifications to create customized data entry solutions.

We can manage and update all major CRM software, including Salesforce CRM, SugarCRM, MicrosoftDynamics, NetSuite, Oracle, and SalesLogix, among others. Our experts will access your data via a secure Virtual Private Network (VPN) or File Transfer Protocol (FTP) to ensure data confidentiality.
Why Choose SunTec Data for Data Entry Outsourcing?
We are a dependable data entry outsourcing company with a pool of highly experienced and skilled professionals who perform the most complex data input tasks with ease and ensure the quickest turnaround time possible.
3850+ Satisfied Clients
20+ Years of Experience
1000+ Professionals
ISO 9001:2015 Certified for Quality Management
ISO 27001:2013 Certified for Information Security Management
What Makes Our Data Entry Services Unique?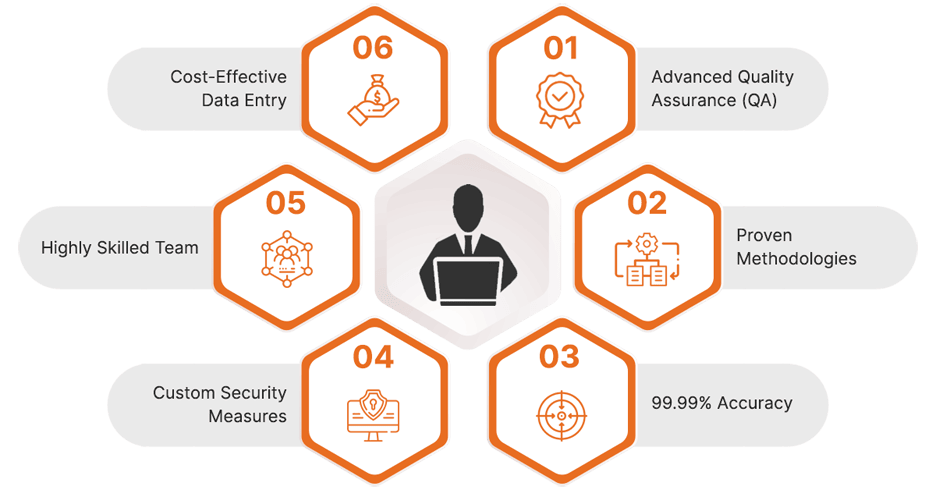 With extensive experience and multidimensional expertise, specialists at SunTec Data enable efficient and accurate output across diverse business verticals. We aim for 100% client satisfaction by delivering best-in-class data entry outsourcing services.
Advanced Quality Assurance (QA)

We employ a Double Entry System (DES), wherein two data entry specialists enter the same data to reduce errors in the outcome. We also house an adept QA team that conducts regular checks to verify data accuracy.

Proven Methodologies

Being one of the dependable data entry outsourcing companies, we follow proven approaches and techniques to ensure our clients receive quality services at all times.

99.99% Accuracy

Our data entry outsourcing experts know the relevance of accuracy and completeness in the success of your marketing strategies and business decisions and insights. Therefore, an accuracy rate of 99.99% is maintained in all projects.

Custom Security Measures

We understand the significance of data and thus implement strict security protocols and measures to protect your business data against internal and external threats.

Highly Skilled Team

Our data entry professionals specialize in data inputting, processing, extraction, data capture, and data maintenance services. Outsource data entry services to us and concentrate on your core business activities while our team expertly manages your time-consuming data management tasks.

Cost-Effective Data Entry

You can save up to 60% of costs by outsourcing data entry projects to us. We constantly find efficient and affordable ways to do our job without compromising quality.
Discuss Your Data Entry Requirements With Us
Gain easy access to business-critical information and streamline your processes with our data entry outsourcing services. You can brief us about your project requirements at info@suntecdata.com or fill out the form on our 'Contact Us' page to know more about our offshore data entry model.
FAQs
Are your data entry practices legally compliant?

Yes. We strictly adhere to all the data-related guidelines and laws, including GDPR, HIPAA, etc. In addition, our data entry outsourcing company helps clients manage compliance risks and get updated databases.
What types of data entry services do you provide?

By choosing us as your data entry outsourcing partner, you can avail a wide array of data input and management services, including:

Medical Data Entry Services
Product Data Entry services
Multilingual Invoice Data Entry
OCR Conversion Services and many more.
What benefits will I get by outsourcing data entry projects to SunTec Data?

By leveraging our data processing and entry services, you can enjoy multiple benefits, including:

Error-free and accurate databases
Improved decision making
Boost in revenue and sales
Better analysis
An edge over competitors
How do you perform data entry?

As a reliable data entry services company, we follow a verified data entry approach to ensure zero errors. Our data entry process involves the following steps:

Scan & Upload Files
Download/Access and Review
Data Entry
Data Indexing, Sorting & Moving
Quality Check and Analysis

For more details, get in touch with our experts.
Who needs data entry services?

Businesses belonging to healthcare, banking, finance, eCommerce, real estate, logistics, retail, and data-intensive industries rely on data entry services.
Do you use any software for data entry?

As an expert data entry outsourcing partner, we use the latest and best software to cater to diverse client requirements. Our specialists have the experience of working with different data entry tools, including the following.

Zoho Forms
Pronto Forms
Infinity
Type Forms
FoxTrot RPA
Tobidoo, and many more.

We can also work on any of the tools as per the requirement and also provide a provision for appropriate training for the tool whenever required.