Outsource B2B List Building Services
Enterprises must build and maintain accurate, up-to-date contact lists of customers and prospects to ensure optimal results for their marketing campaigns. However, the majority of businesses find B2B list building extremely challenging because it requires constant scraping, data validation, database updation and management.
Custom B2B list building services from SunTec Data can help you manage all those activities within your budget and with prompt effectiveness.
Our experts employ state-of-the-art tools and algorithms to refine your database for maximum customer engagement, effective decision making, increased conversions, and exceptional business outcomes.
When you outsource B2B list building services to us, we provide high-quality lists tailored as per your requirements.
Market research and target audience identification
Our Extensive Range of B2B List Building Services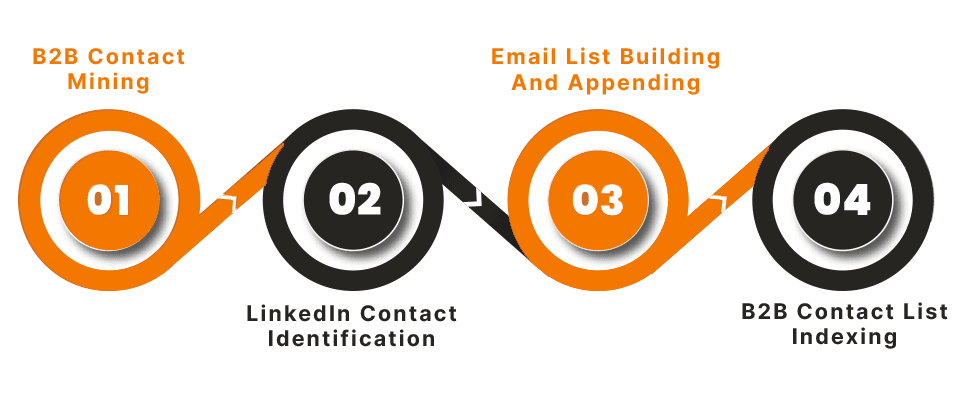 B2B Contact Mining

The B2B list building experts at SunTec Data employ manual and automated methods to ensure data collection from multiple sources. They create a list by processing, authenticating, and organizing the extracted information as per client specifications. The information is further validated for accuracy and correctness to meet highly specific B2B business needs.

LinkedIn Contact Identification

We identify relevant accounts on LinkedIn and compile useful contact information in a dataset. In addition, our data specialists employ the latest data mining tools to create an extensive list of prospects for pitching purposes.

Email List Building And Appending

As a part of our custom list building services, we create new email lists and validate the existing ones to enhance your email marketing campaigns. We also enrich your email lists by updating outdated IDs to improve targeting, relevancy, and CTR.

B2B Contact List Indexing

SunTec Data meticulously implements all the extracted B2B data into an index tailored to your requirements and criteria. We help you access, use, share, and maintain your data hassle-free by indexing the contact list.
Data Points Covered In Our Custom List Building Services
When you outsource B2B list building services to SunTec Data, we create and deliver customized lists by capturing relevant data points. You can choose as many fields as you want, depending on your business requirements. Additionally, if you need any data field that isn't included in our templates, you can simply place a customization request. Our B2B list building professionals will effectively insert all required fields, add and validate the data, and deliver result-oriented lists.
Name
Website
Address
Location
Contact No.
Employee Size
Revenue
Segment
Industry
Sub-Industry
First Name
Last Name
Email ID
Phone Number
Distinctive Benefits of SunTec Data's List Building Services
Outsource Custom List Building services to SunTec Data and leverage the benefits of working with certified data experts. Amplify your customer communication campaigns, increase sales, and improve organizational decision-making with specialists who can create premium mailing lists with hyper-relevancy and precision.
The SunTec Data Advantage:
Get Your Data Compiled and Validated

As a reliable B2B list building service provider, we go beyond creating a mailing list of your target audience. If you have an existing B2B list and want to update it with new customer details, we can be your best bet. We can pull the required information and update your existing mailing lists using our reliable connections. This will help you connect with your target audience.

Our list building services also include validation and data de-duplication services to ensure accurate and error-free lists.

Leverage Our Manual Research Strategy

We have a proficient team that manually researches and collects the contact information of your B2B customers for effective communication. We aren't solely dependent on any tool or application but perform manual research to discover hard-to-find contacts.

Get Your Hands Over Filtered & High-Quality Data

Our list building services assure verified, high-quality contacts to boost your customer base. Besides creating mailing lists, we will also analyze and update your existing lists for any inaccuracies or duplicity.

Avail Myriad Segmentation Options

Our lists are built to meet market requirements, irrespective of the business's size, segment, and popularity. We include multiple labels, including zip codes, revenue, employee size, date, business type, income, or geography.
Numerous Clients Have Achieved Their Sales Targets Via Our Accurate B2B List Building Services. Be The Next.
Reach Better Prospects With Our Affordable List Building Services
We offer exemplary and authentic mailing list building solutions that take you closer to your customers and prospects. Whether it's updating your existing mailing list, cleansing the mailing database, or completing list processing, we fulfill all client requirements in a cost-efficient and budget-friendly manner.
When you outsource list building services to SunTec Data, you can save up to 60% of costs and a substantial amount of time. Our professional team uses advanced tools and techniques to deliver accurate mailing lists while keeping your costs low.
Outsource Customer-Focused B2B List Building Services to SunTec Data
SunTec Data has been helping businesses across the globe for over two decades with a wide array of list building services. Our team has relevant experience and expertise in extracting and collating reliable customer information into high-performing mailing lists.
Here are some reasons why we are trusted and chosen as a service partner by 700+ enterprises across the globe.
ISO 27001:2013 certified for information security management
ISO 9001:2015 certified for quality management system
Advanced computing and communication technology
Flexible pricing and hiring models
99.99% accuracy and precision
Dedicated project managers and leaders
Our B2B list building services can help you enhance your customer base and brand. As a trusted outsourcing partner, we promise result-oriented contact lists for better business outcomes. To know more about our services or request a free demo, drop an email at info@suntecdata.com or reach out to us at +44 203 514 2601 / +1 585 283 0055.
B2B List Building Services: Frequently Asked Questions
What customer data should be on my mailing list?

Your mailing lists must include the business category of your customer, the revenue and size of the company, contact numbers, email addresses, company locations, employee strength, and demographics, among others. All the data should be validated for relevance and reliability to ensure effective customer communication.
Can high-quality mailing lists improve my custom relationships?

Yes, high-quality customer information in your mailing lists helps you connect and share information with your customers efficiently. In addition to this, it reduces email bounce rates, facilitates personalization, and enhances your marketing and sales campaigns while amplifying the user experience.
How much do your custom list building services cost?

Our pricing policy is flexible to suit diverse business requirements and budget constraints. We can provide a closer cost estimate of our list building solutions once we know your requirements. You can also get a free quote.
Can I track my ongoing list building project?

Yes. When you outsource list building services to us, we will assign a dedicated project manager to maintain transparent communication regarding project progress. You can connect with the project manager anytime, per your requirements and convenience.